Zenith is an action role-playing video game released for the Nintendo Switch platform in 2019, available digitally on the eShop software.
The gameretains the classic fantasy realm vibe of traditional RPGs, but intermixes it with various parodies and pop-culture references to add a modern twist. 
Gameplay
The game for the most part is centred around the protagonist called Argus, a middle-aged ex-wizard who wishes to settle down and relax after years of exploring ruins and quests. Once again though he is forced to undertake a quest to save the world and and keep a dangerous artifact hidden from the enemies.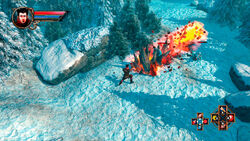 During the single-player campaign, the player undertakes a quest throughout the world in the fantasy realm, defeating bosses and enemies along the way, and solving various puzzles.
As Argus is experienced in wizardry, he can use magic spells in battles; as is customary with the RPGs, special abilities are unlocked and upgraded throughout the quest.
Collector's edition
Whilst the game is currently only available in digital format, a physical copy with the game card has been announced for a release on November 8th, in Europe at least. It will be packaged in bundle that also includes a game-related map and handbook. 
Community content is available under
CC-BY-SA
unless otherwise noted.