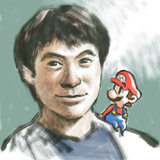 Yusuke Nakano is an illustrator who works for Nintendo. He creates the artwork for many Nintendo published video games, or at least helps supervise the creation of art. According to him, before he creates artwork for a particular character or item, he'll sit down with the game's developers to help him determine what exactly to create. Because of the shifts in character design, it's a challenge for him to complete a concrete piece of artwork. Without a doubt he is one of Nintendo's primary artists.
Biography
In the beginning, he was, like many illustrators at Nintendo, a fan of comic books. He was particularly fond of American comics and appreciated the work done by Richard Corben and Frank Frazetta. In school, he was concerned that he wouldn't be able to get a job as an artist. At the same time he didn't view video games as anything special. After playing The Legend of Zelda: A Link to the Past and the Fire Emblem series, he began to really have a love for the medium. He noticed that the art used in these games were not only the art that he loves, though the kind that he specializes in as well, which urged him to get a job at Nintendo.
He started work on video game illustration with Wario Land: Super Mario Land 3 as the packaging designer along with Fujiko Nomura. He later went on to work on Super Metroid's printed artwork and various Virtual Boy video games. For the Nintendo 64 video games, which include the likes of Super Mario 64, Mario Kart 64 and various others, he would create CG artwork, though also for games such as The Legend of Zelda: Ocarina of Time, which features traditional hand drawn images.
He got the Ocarina of Time job after hearing about the game and creating a couple concepts for the game's directors. They loved the drawings he made, and chose him to draw the artwork for Link and various others. His favorite to draw was Impa, though he also like to draw Ganondorf as well. Following Ocarina of Time, he worked on various other Zelda titles as well, including The Legend of Zelda: Majora's Mask, The Wind Waker, and Twilight Princess.
According to him, the first game in which he worked on a game during its earliest stages was with The Legend of Zelda: Twilight Princess for the Wii and GameCube. Not only did he help create the artwork, though he also gave examples to the team on how they could express Link, Zelda, and many of the game's monsters via sketches he drew. After he and art director Satoru Takizawa came up with an idea, Shigeru Miyamoto and game director Eiji Aonuma didn't like it, so they eventually came up with what we have today.
Surprisingly, he also designs various pieces of art for games such as Wave Race: Blue Storm and even Animal Crossing.
Inspirations
Yusuke Nakano has explained that during the time of The Legend of Zelda: Majora's Mask, he was deeply into the comic book Hellboy, saying that it probably helped shape the game in one way or another.
Games
Community content is available under
CC-BY-SA
unless otherwise noted.