Yoshi Circuit is a course found in Mario Kart: Double Dash!!, and Mario Kart DS as well as Mario Kart 8 with the 1st DLC pack.
Yoshi Circuit is a track situated on the outline of a Yoshi-shaped island. It is one of the twistiest circuits in the game (a mini-Nurburgring of sorts), and contains two shortcuts (both of which require boosts).
The course has two Piranha Plant hazard areas - one situated about three quarters of the way in, and the other at the final corner before the finish line.
History
Mario Kart: Double Dash‼
Yoshi Circuit is a track in Mario Kart: Double Dash!!. It looks like a size of Yoshi. You go under the outer parts of Yoshi's body. The road is yellowish-gray in color along with cucumber-green grass and blue water ocean. It also shares the same music with Mario Circuit and Luigi Circuit, having the most famous music in the game.
Layout: You start going next to the Yoshi's brown shoe. Go near his leg/calf and you go around the hand-tunnel. You go around his head and then go near his red shell and green tail with white path that makes you fall into the road. After making lots of curves, head to finish while avoiding Piranha Plants.
Mario Kart DS
Yoshi Circuit also appeared as a fourth track of Lightning Cup. The are no modifications but look closely. The small things floating in the air is extinct. When you drifting a curve, you can see the signs telling you which direction you must go. If you go near the water, you can see the water is green on the map.
Mario Kart 8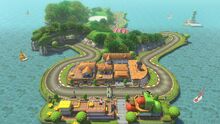 The track returns to the series as part of the DLC in the Egg Cup as the first course. The track layout hasn't changed too much from the DS version. The course has an additional ramp by the saddle to get some more tricks. The piranha plants have been removed to make room for the town.
Aesthetically, the track changed a whole lot. There is now a port to the left of the finish line, complete with a Yoshi-like house. To the right, dirt mounds were replaced by an actual town.
Community content is available under
CC-BY-SA
unless otherwise noted.