Yaldabaoth, also known as "Gold Face", is a Faced Mechon in Xenoblade Chronicles. It is piloted by Egil, the true leader of the Mechon. Yaldabaoth is able to control any Mechon at will. According to Egil, it is the largest and strongest Faced Mechon ever built.
Story
Valak Mountain
Yaldabaoth first appears at Valak Mountain to stop the fight between the party and Mumkhar and to retrieve Face Nemesis. Here it is revealed that his pilot's name is Egil and he says that if Shulk wants Fiora, he must continue on to Galahad Fortress before departing for the Mechonis.
Galahad Fortress
When the party escapes from Face Nemesis' attack in Galahad Fortress, it falls. When it lands, Yaldabaoth, appears alongside of Face Nemesis. There it generates the Apocrypha, Ether waves opposite to the Monado's, which cause it to malfunction before engaging the party alongside Face Nemesis. Face Nemesis rebels against Egil and after a short fight between him and Face Nemesis, she pushes Yaldabaoth down from the fortress. However, it flies away from Face Nemesis.
Agniratha
When the party confronts Egil at the Meyneth Shrine in Agniratha, he calls Yaldabaoth. When Yaldabaoth is defeated, Yaldabaoth takes control of Mechonis and destroys Agniratha with a massive energy blast.
Mechonis Core
After the destruction of Agniratha, Shulk and his group return to the Central Factory in the Junks. Then the group reach the Apocrypha Generator. After the battle against it, the group must go into the Mechonis Core to stop Egil. Egil is inside Yaldabaoth and Shulk and the others must defeat him. During the battle, Shulk sees in a vision in which Yaldabaoth destroys Bionis with an infinitely powerful attack, Bionis Slash X. Shulk and the others must defeat three Energy Devices in two minutes in order to complete the story quest Save Bionis, or else Bionis will be destroyed and all the members in the party will be killed. When the group wins, Shulk spares Yaldabaoth and Egil, and they realize that they can live in peace. Unfortunately, when Zanza emerges from Shulk's body and takes over Bionis, it kills Mechonis and with it, Yaldabaoth and Egil, who fight to the very end.
Stats
Galahad Fortress
Stats
HP
259,900
Str
961
Eth
697
Agi
28
Double Att Rate
0
Critical Hit Rate
0
Phys Def %
0
Eth Def %
0
Defence Direction
N/A
Agniratha
Stats
HP
300,000
Str
1,350
Eth
1,250
Agi
115
Double Att Rate
0
Critical Hit Rate
0
Phys Def %
25
Eth Def %
25
Defence Direction
All Direction
Mechonis Core
Stats
HP
300,000
Str
1,400
Eth
1,100
Agi
110
Double Att Rate
0
Critical Hit Rate
0
Phys Def %
0
Eth Def %
0
Defence Direction
N/A
In other media
Super Smash Bros. for Nintendo 3DS/Wii U
Trophy
In the Wii U version of Super Smash Bros. for Nintendo 3DS/Wii U Yaldabaoth appears as a trophy.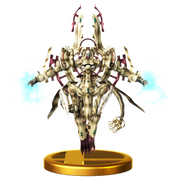 Description: The ultimate Mechon, also known as Gold Face. It's around twice the size of the other faced Mechon and piloted by Egil, ruler of Mechonis and leader of the assault on Bionis. Egil ultimately fuses Yaldabaoth with the Mechonis itself, becoming the great titan's core. The machine's name comes from a false god of legend.
Trivia
Yaldabaoth is a name of the Demiurge in Gnosticism, maker of man, but jealous of their spirit.
Community content is available under
CC-BY-SA
unless otherwise noted.