Xenoblade Chronicles: Definitive Edition is a remake of Xenoblade Chronicles, a Wii action RPG that started the Xenoblade series. Definitive Edition is set to release worldwide on the Nintendo Switch during 2020. The character design of the game have been remade to look closer to the ones found in Xenoblade Chronicles 2.
Story
The game focuses on two colossal gods that long ago fought, resulting in two dead corpses. The entire game takes place on these two gods that are now frozen in place. The player travels on the gods, one representing nature and the other machinery.
According to Tetsuya Takahashi, creator of the various Xeno properties, Xenoblade is not directly related to any of the previous Xeno video games.
Certain thematic elements popular with Takahashi can be seen however. In the game, the developers went into development planning on making the game as fun as possible while not focusing as much on lengthy cinematics, which they explained was a path that ultimately led to a dead end with previous Xeno games.
Characters
Playable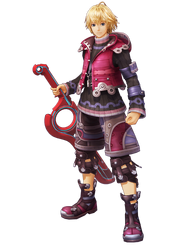 Others
Development
The game was announced during the Nintendo Direct that took place on the 5th of September 2019 with nothing but some footage of the new designs, the name of the game, the 2020 release window and the fact that it was a remake announced.
Community content is available under
CC-BY-SA
unless otherwise noted.