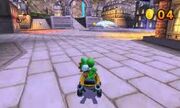 Wuhu Town (JPJapanese: ウーフータウン

Romaji: Ūfū Taun) takes place at night in the town from Wuhu Island as a battle stage in Mario Kart 7. The stage has buildings all over the place. It also has a fountain at the center of the stage which allows players to jump over it and accomplish a trick. There are also three small paths leading uphill to a small grass-covered area, where the Queen Peach cruise ship and the "Wii" blimp can be seen. Item Boxes are scattered near the center of the stage, usually where a path begins. There is a metal fence on the exits of the town and some white lights hanging on windows, roofs, or lit-up lampposts. Some parts of the town, between the buildings, have patches of grass and the rest is a bricked road.
Mario Kart 8 Deluxe
Wuhu Town returns in Mario Kart 8 Deluxe as a retro battle course. The stage now takes place in the daytime, as opposed to night time, with triangular flags replacing the lights. The water fountain on the center of the town is replaced with a flower patch, with a compass rose around it, and the central building is redesigned and connected to the adjacent buildings. The blimp now features the Mario Kart logo. The basketball court is now open to players to drive into.
Similar to what happened with N64 Block Fort and GCN Pipe Plaza in Mario Kart DS and GCN Luigi's Mansion, it receives a different music piece; a version of the theme for Wuhu Loop and Maka Wuhu, which in turn is based on the main title theme from Wii Sports Resort.
Sponsors
Mario Kart 7
Bowling (Posters, signs)
Go For It! (Posters)
I ♥ Sports (Posters)
Perfect Game! (Signs)
Spare! (Posters)
Strike! (Posters)
Song Credits
Mario Kart 7 Version
Music & Arrangement: Satomi Terui
Publisher: Nintendo
Mario Kart 8 Deluxe Version
Music: Ryo Nagamatsu
Arrangement: Asuka Hayazaki
Publisher: Nintendo
Trivia
Community content is available under
CC-BY-SA
unless otherwise noted.