Wii Zapper
[
Edit
]
[
Talk
]
The Wii Zapper is an accessory for the Wii that is used for various shooting games such as Link's Crossbow Training, Ghost Squad, and Call of Duty: World at War. The accessory launched in Japan and came packaged with Ghost Squad, though in America it was a pack-in with Link's Crossbow Training.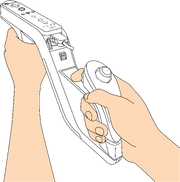 Design
The Zapper was designed after the NES Zapper. It is a shell for the Wii Remote, with the trigger pushing the "B" button on the back of the remote. While initially released with Link's Crossbow Training, the shell will assist with any target shooter released for the Wii. The Nunchuck also attaches to the shell to provide grip for the rear hand.
Although designed for Link's Crossbow Training, it can be used with any game using similar gameplay, as the Zapper is merely a shell.
Release
The Wii Zapper was first released in Japan on October 25, 2007 as a pack-in with Ghost Squad, with standalone units also made available for purchase on Nintendo's Japanese online store. A bundle with Umbrella Chronicles was later released in the region on November 15.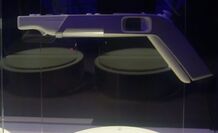 For other regions, the Wii Zapper is packaged with Link's Crossbow Training, a training game based on The Legend of Zelda: Twilight Princess. It was released in North America on November 19, 2007, with releases scheduled for Europe and Australia on December 7 and December 13, respectively. They usually cost from USD$20.00 to USD$36.99.