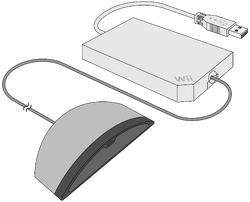 Wii Speak is an accessory for the Wii console that allows the player to talk with others around the world without the need for a headset. The device can be placed near a television and anyone in the room will be able to talk. If you have this accessory, you are also able to download the Wii Speak Channel.
History
It was revealed during E3 2008 along with Animal Crossing: City Folk for the Wii on July 15, 2008. On the showfloor it was also announced that third party title The Conduit would also use WiiSpeak for its 16-player battles. If you were to plug the Wii Speak into a computer, it would be identified as "Wii Party-mic" and not work on the computer.
Games
Trivia
The Conduit used the Wii Speak as to talk during multiplayer.
Community content is available under
CC-BY-SA
unless otherwise noted.