Wii Party U is a 2013 game in the Wii series for the Wii U. It is the sequel to the 2010 Wii game Wii Party. The game was announced on January 23rd 2013's Nintendo Direct broadcast, and later detailed at the E3 2013 and the October 2013 Nintendo Direct. Nintendo released the game on October 25, 2013.
Gameplay
TV Party
These games are mostly board games running very similar to Mario Party. The modes include:
Game Pad Island
Highway Rollers
Mii Fashion Plaza
The Balldozer
Team Building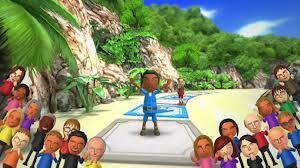 House Party
These are more involved games that "transform" your living room. They include:
Button Smashers
Name that Face
Lost-and-Found Square
Sketchy Situation
Do U Know Mii?
Water Runners
Feed Mii
Dance With Mii
Minigames
Tabletop Games
Reception
Trivia
The "Mii Audience" (When Mii characters cheer and clap on screen after a certain act is performed) now have complete bodies. While they had no legs and floating hands in the original game, they now have full legs and feet, and now have arms.
The Host has the same Voice Sound FX from the original game.
The game originally was scheduled to come out in Summer 2013 but at E3 2013, Nintendo had put the game aside to October 2013.
External links