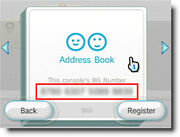 The Wii Number is a unique number that is different for each Wii system, and is used to register another Wii on the Wii Message Board.
To find the Wii Number
Simply go to the Wii Menu, and push the envelope icon in the bottom right corner. Then, push the Create Message icon (lower left), and the far right option. The player's Wii Number is displayed. 8842|4240|5601|8011
Community content is available under
CC-BY-SA
unless otherwise noted.