Who Are You?
[
Edit
]
[
Talk
]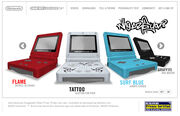 Who Are You? refers to the advertising campaign Nintendo launched in order to promote the GameCube in 2002 to 2005 and the Game Boy Advance. In these campaigns it described that you are what you play, showing off people and the games they enjoy with either a characters' face plastered over theirs or simply just a title above them. For example, in one commercial it showed a person get off a bike, and above the person read the word "bounty hunter", which was followed by scenes of Metroid Prime 2: Echoes, in which the protagonist, Samus Aran, is a bounty hunter.
In most of the campaigns the ads showcased Nintendo published titles, though occasionally a third party such as Electronic Arts or Namco would pay Nintendo to include their titles in the commercials.
Examples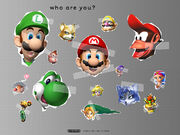 Metroid Prime 2: Echoes - Echoes was featured in various advertisements. Including the one mentioned in the first paragraph, another featured a real life actress walking down an alley with Samus' suit parts building up on her. The end of the advertisement asks "Who are you?"
Some commercials featured multiple games that featured a real life person and a word above them explaining who the main character in the game is. Some examples of these include:
In various "Who are you?" commercials a man is at a psychiatrist, and in each one the psychiatrist asks "who are you?" in a confused tone while the man acts out the games. Games that featured this format include: The Legend of Zelda: Four Swords Adventure, MVP Baseball 2004, Custom Robo, Metal Gear Solid: The Twin Snakes
Mario Party 5 - Featured Mario running for president in various ads. Was highly successful and even featured in magazines.
Mario Kart Double Dash - magazines featured go kart racers with Mario character faces taped over them.