WarioWare, Inc. (stage)
[
Edit
]
[
Talk
]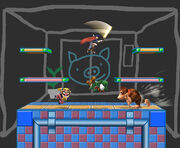 The WarioWare stage is an area in the Wii video game Super Smash Bros. Brawl. The game is original as every few seconds the formation of the stage will change into something else - always a microgame based on the WarioWare series.
Stage Elements
Music
The bolded songs must be unlocked while the italicized songs are songs returning from a previous entry.
Brawl
WarioWare, Inc.
WarioWare, Inc. Medley
Ashley's Song
Ashley's Song (JP)
Mike's Song
Mike's Song (JP)
Mona Pizza's Song
Mona Pizza's Song (JP)
3DS
WarioWare, Inc.
Ashley's Song
In Japan, Ashley's Song is its Japanese version.
Unlock Conditions
In the 3DS version of Super Smash Bros. for Nintendo 3DS/Wii U, the stage must be unlocked by unlocking Wario
Origin
This stage takes place in the first WarioWare video game, and will go within eight different micro-games for a short moment giving new terrain and new challenges within each one. The primary stage is the screen that takes place in between each micro-game in the challenges section, with the pig colored on the elevator in the back. The micro-games referenced in this stage include Appeal!, Destroy!, Shave!, Cracker!, Stay Dry!, Dodge!, Jump!, and Don't Move!