Welcome to the Nintendo Wiki!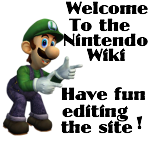 Welcome to our wiki, and thank you for your contributions! There's a lot to do around here, so I hope you'll stay with us and make many more improvements.
Upload an avatar! Uploading an avatar will give you a unique identity.
Recent changes is a great first stop, because you can see what other people are editing right this minute, and where you can help.
Please sign in, if you haven't already, and create a user name! It's free, and it'll help you keep track of all your edits.
Questions? You can ask at the Help desk or on the "discussion" page associated with each article, or post a message on my talk page!
Need help? The Community Portal has an outline of the site, and pages to help you learn how to edit.
I'm really happy to have you here, and look forward to working with you!
Smash Flash
Please see fan adopts wiki!
smash flash
Tanks i've got version0.7 is that right?
Fawful bug
How do you vaccume up the fawful bug? Using cheats I turned it into an immortal battle, but I can't vaccume
Sorry
Sorry, I can't kill the bug!!!!!!!!!! P.S can you unlock characters in smash flash????

Sheikah warrior 15:42, August 14, 2011 (UTC)
No fair!!!
No fair!!!!!!!!!! I've been here much longer than you and I'm # 16!!!!!!!!!!!!!!!!!!!!!!!!!!!!!!! I'm gonna catch up!!!!!!!!!!!!
Glitch
Thanks I'll Get on right now!

Sheikah warrior 13:12, August 22, 2011 (UTC)
Thanks for adding that image to the Beanstar article I made. I wasn't sure whether or not it was preferable to use in-game images or not. Skitts 03:05, September 2, 2011 (UTC)
Under water
I'm Going to check that out right now.........................................

Sheikah warrior 14:36, September 2, 2011 (UTC)
Awwwww! I want one!!!!!!!!!! You Know I love Celupods! Why does that cute Little Nautalis have to be so expensive????????????????????????????????? Stinking Inflation!!!!!!!!!!!!!!!!!! I thought the world of fan adopts had a great economy? Arg! Time to get saving! I'll have my Nautalis!
Sheikah warrior 14:40, September 2, 2011 (UTC)
Got one!!!!!!! Calamari is it's name! But now i'm poor again :(
P.S Cheater!!!!!! How did you get 4 planets??????? I call cheats!!!!!!!!!!!!
Sheikah warrior 14:52, September 2, 2011 (UTC)
Oh. Sorry I accused you of cheating! Feed Calamari!
Sheikah warrior 14:56, September 2, 2011 (UTC)
City Folk VS Strikers Charged.
My Lil sis (the cute one, NOT the Mean one) Is gonna buy Animal Crossing: City Folk or Mario Strikers Charged. Thoughts? Opinions? C'mon help out.

Sheikah warrior 17:00, September 4, 2011 (UTC)
Glad you said that. That's the one she wants most. Well time to visit that cute little town of odd animals
Sheikah warrior 17:05, September 4, 2011 (UTC)
Latest Project.
Interesting. If only I knew any info on the subject.

Sheikah warrior 17:03, September 4, 2011 (UTC)
Category/template names
Hi! When creating templates and categories, please don't use uppercase letters in nouns, use "Mega man bosses" not "Mega Man Bosses. Also categories should be named in plural, such as "Mega Man templates" not "Mega Man template". Please change it where you didn't do so. Thanks! - Ville10 20:42, September 7, 2011 (UTC)