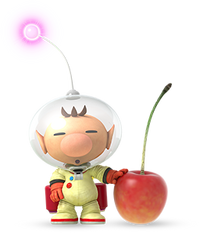 Since no nomination was made this month, I decided to have the original Captain Olimar as this month's featured article. If you want to suggest an A class article on the Nomination page, there is a good chance that it will be selected as next month's featured article if other users agree with your choice.
Olimar is the main character of the Pikmin series as well as the main protagonist of every game aside from Pikmin 3 in which he takes the role of the person that the new crew must find if they want to escape PNF-404. Olimar is also known for his appearance as a playable character in the Super Smash Bros. series since Super Smash Bros. Brawl. He is so far the only playable character from the Pikmin series aside from Alph who appears as one of his costumes.
Community content is available under
CC-BY-SA
unless otherwise noted.