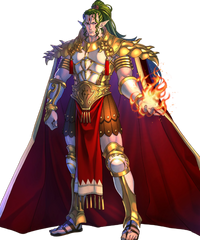 This month's featured article is Duma. I saw the Golden Sun nomination after I changed all the related templates so instead of changing everything a second time, Golden Sun will be the featured article of September. Don't forget to to suggest A class articles on the Nomination page if you want them to be featured for a month.
Duma is the main antagonist of Fire Emblem Gaiden and Fire Emblem Echoes: Shadows of Valentia. He is an elder Manakete who serves as the patron deity of the Rigelian empire. The conquest of Zofia by the Rigelian army was caused as a result of his deteriorating mind in his later years. Duma is also playable in Fire Emblem Heroes, like many Fire Emblem character.
Community content is available under
CC-BY-SA
unless otherwise noted.