Since Ghirahim le fabuleux didn't made a reminder this month,i'm going to do it on my own.
This month's featured article is Shigeru Miyamoto. Don't forget to to suggest A class articles on the Nomination page if you want them to be featured!
Shigeru Miyamoto (JP) (born on November 16, 1952) is a video game director, producer, artist, designer, and general manager at Nintendo. Born in the small town of Sonobe, Japan, he has been considered one of the most innovative, admired, prolific, influential, and acclaimed video game developers.
Shigeru Miyamoto has created some of the industry's most lucrative franchises and is credited in a variety of titles that have been lauded by virtually all critics. His contributions for the science and art of the medium within the technical software side of game development is considered to be unparalleled when it comes to having a profound impact and enduring legacy.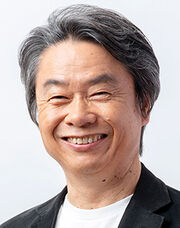 Community content is available under
CC-BY-SA
unless otherwise noted.