| | |
| --- | --- |
| Gender | Male |
| Age | 16 |
| Birthday | June 22, 2001 |
| Nationality | American |
| Favorite Music | |
Notice: As you may already know, I have for days been undergoing issues with Wikia causing pages's content to be split in half as if the rest didn't exist. I contacted Wikia already and the issue still wasn't solved yet. To prevent anymore pages from suffering this glitch, I will have to reduce my editing time around here.
Welcome to my userpage fellow visitor, my name is PSI Fire, a decent-level contributor at the Nintendo Wiki, and also a Content Moderator, so if you have any questions, you're more than welcome to forward them to my talk page.
Personal Achievements
Template:Hover2.
Achieve 10,000 edits.
Add the most content on any page in a single edit.
Favorite pages
Games
Owned
Not Owned
Currently Playing
Pages Created
To Do List
Create Panne/gallery page
Create Say'ri/gallery page
Create Nina/gallery page
Create Sophie/gallery page
Create Lamia (Fire Emblem) page
Create Vaha page
Create Aida page
Create Grahnye page
Create Kana/gallery page
Create Velouria/gallery page
Finish Selkie page
Finish Rhajat page
Finish Catria page
Finish Clarine page
Finish Lena page
Finish Celica (Fire Emblem) page
Create Thökk page
Finish Lilina page
Finish Nephenee page
Finish Silque page
Finish Lilith page
Finish Mozu page
Finish Hana page
Finish Severa page
Finish Orochi page
Finish Veronica page
Finish Elise page
Finish Katarina page
Finish Micaiah page
Create Say'ri gallery
Finish Say'ri page
Finish Setsuna page
Finish Peri page
Finish Hinoka page
Finish Sakura page
Finish Sonya (Fire Emblem) page
Finish Shanna page
Finish Hana page
Finish Lilina page
Finish Cecilia
Finish Rhajat page
Finish Charlotte page
Finish Azura page
Finish Emmeryn page
Finish Fire Emblem Fates/gallery
Finish Beruka page
Finish Effie page
Finish Clarisse page
Finish Veronica
Finish Genny page
Finish Tana page
Please note that images from Fire Emblem Heroes I upload are NOT ripped directly by me, so here is the link to all sprites and character art: https://drive.google.com/drive/folders/1IzKJZAzSlRL31QkcA7tshBXJdBwsoJBA
5 Star Heroes
Takumi (Happy New Year!)
Kagero
Roy (Young Lion)
Gallery
My amiibo Collection
Note: Click on these

figures to visit the pages of their respective characters.
Promotional
Cards
Sprites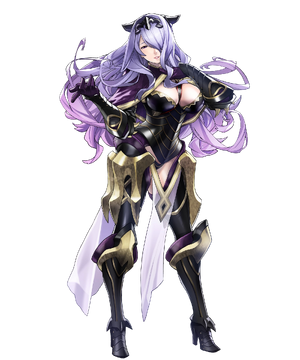 Community content is available under
CC-BY-SA
unless otherwise noted.