Urbanix is a WiiWare game that was developed by Nordcurrent. It was released on the Wii Shop Channel on January 17, 2011, and can be purchased for 500 Nintendo Points.
Wii Shop Channel Description
This is the description for Urbanix on the Wii Shop Channel:
Welcome to Urbanix-a game inspired by classic computer games! You play as Urbanix, a tiny little tractor that has to build a town on an empty field. Avoid enemies and catch and chase house crashers-they will try to spoil your game. Play on Earth, in the North Pole, or on the moon-all locations have different gameplay mechanics, therefore you will have to adapt your strategy. Be accurate, be quick, collect bonuses on your way, and you will be the winner!
- Enhanced gameplay based on decades-old classics
- Three different worlds that have different gameplay modes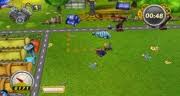 - 150 levels set across all worlds
- Intense Multiplayer mode
Community content is available under
CC-BY-SA
unless otherwise noted.