Town & City is a stage in the Wii U version of Super Smash Bros. for Nintendo 3DS/Wii U based on Animal Crossing: City Folk. It is a flat platform with a couple platforms that float by. Town residents can be spotted behind the fighters. It looks very similar to Smashville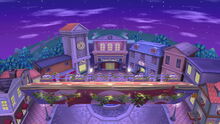 Stage Elements
The stage is fairly simple. The platforms have a couple arrangements. One is two platform traveling back and forth stopping in the middle and another is 3 platforms set up like an extended Battlefield and another with a lower middle platform and two higher outer platforms.
Behind the battlefield is bunch of villagers that is randomly selected. They change between the Town and City. The Eight-player version lacks the villager. Omega form lacks that platform which held the villagers.
Music
Wii U
Plaza/Title (Animal Crossing: City Folk/Animal Crossing: Wild World)
Tour (Animal Crossing: New Leaf)
Kapp'n's Song
Outdoors at 7 p.m. (Sunny)/Main Street
Bubblegum K.K.
K. K. Slider appears on Saturday Nights and plays the following tracks
K.K. Cruisin'
K.K. Condor
K.K. Western
K.K. Gumbo
Rockin' K.K.
DJ K.K.
Origin
The concept behind this stage comes from the City mechanic in Animal Crossing: City Folk. The player takes the bus to the city. Similarly, Town & City transfer the players between the city and town. The villagers change between the locations as well the background.
Trivia
Community content is available under
CC-BY-SA
unless otherwise noted.