New Pokemon Games - The Loop
Play Sound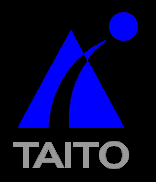 Taito Corporation(JPJapanese: 株式会社タイトー

Romaji: Kabushiki-gaisha Taitō) is a video game developer and publisher. Taito was purchased by Square Enix in 2005, and prior to this was owned by Kyocera.
History
Taito was established by Ukrainian-Jewish businessman Michael Kogan on August 24, 1953 as Taito Trading Company, Ltd.(JPJapanese: 太東貿易株式会社

Romaji: Taitō Bōeki Kabushiki-gaisha). Taito initially started distributing vending machines, though would eventually start to create a multitude of video games such as Space Invaders, Elevator Action, Qix and Bubble Bobble. Their first game for a Nintendo system was Space Invaders, which was released in 1985. While they are owned by Square Enix, their games are still published by themselves in Japan.
List of games
The following are a list of games that have been released on Nintendo consoles and handhelds.