Super Mario Bros. 25th Anniversary
[
Edit
]
[
Talk
]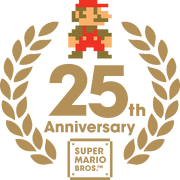 Super Mario Bros. 25th Anniversary was a special event running through the year of 2010. It marked the 25th anniversary of the 1985 NES game Super Mario Bros., a blockbuster video game from the 1980s which starred Nintendo's mascot character, Mario and triggered a revolution in the gaming industry.
To pay homage to Nintendo's legendary relic from the past, the anniversary was celebrated thoroughout the year with the production of Super Mario All-Stars video game package for the Wii console in late 2010. This was a compilation of four classic Super Mario Bros. games from the past, combined together with a booklet detailing the history of the series and an audio soundtrack containing music from all platformer games in the Mario series.
Prior to the release of the compilation, a special edition paint job in Mario's red colour scheme was created for the Wii console. The red Wii was bundled together with a copy of New Super Mario Bros. Wii - which also came by default with a red-coloured box cover - and Wii Sports Resort. There were regional differences between the bundles - the North American versions came with just these two, whereas the European counterparts contained a pre-installed software of Donkey Kong, and in Australia they featured the original Super Mario Bros. instead.
Alongside that, the Nintendo DSi XL handheld console also received the red anniversary treatment - it had depictions of classic Mario items printed on the device's front panel, and in this case it came bundled with the older, handheld version of New Super Mario Bros.
Both packs were sold as limited edition, released on October 22th for the DSi XL and 29th for the Wii. The European operations of Nintendo held a competition before October 13th apparently requesting Mario fans to deliver in videos of why they love Mario, with the lucky selection receiving the Wii bundle for free.[1]
In 2013, a similar anniversary was promoted to celebrate 30 years, this time with Mario's younger green brother Luigi taking the spotlight in what was named "The Year of Luigi".
Gallery
External links
References