These are the soundtracks for Super Mario 64.
Super Mario 64 Original Soundtrack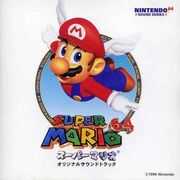 Super Mario 64 Original Soundtrack is a soundtrack for Super Mario 64 released in Japan on July 19th 1996.
It was later released in the United States in November 1996 and in Germany as It's a me, Mario! • The Original Super Mario 64 Soundtrack in 1997.
Track List
"It's me, Mario!"
TITLE THEME
PEACH'S MESSAGE
OPENING
SUPER MARIO 64 MAIN THEME
SLIDER
CASTLE
LOOPING STEPS
WATER
FIRE BUBBLE
SNOW MOUNTAIN
HAUNTED HOUSE
MERRY-GO-ROUND
CAVE DUNGEON
PAKKUN FLOWER'S LULLABY
POWERFUL MARIO
METALLIC MARIO
FILE SELECT
CORRECT SOLUTION
KINOPIO'S MESSAGE
POWER STAR
RACE FANFARE
STAR CATCH FANFARE
GAME START
COURSE CLEAR
GAME OVER
STAGE BOSS
KOOPA'S MESSAGE
KOOPA'S ROAD
KOOPA'S THEME
KOOPA CLEAR
ULTIMATE KOOPA
ULTIMATE KOOPA CLEAR
ENDING DEMO
STAFF ROLL
PAKKUN FLOWER'S LULLABY
Trivia
In the Japanese booklet, Charles Martinet's last name was misspelled as Martinee.
Track 28, 29, 30, 31, 32, and 33 in the American version still had used Bowser's Japanese name in the title instead of his English name which is a localization error.
Gallery
Community content is available under
CC-BY-SA
unless otherwise noted.