GTA: The Criminal Enterprises - The Loop
Play Sound
Super FX
[
Edit
]
[
Talk
]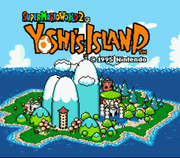 The Super FX is a chip featured in various SNES game cartridges which allow the SNES to render fully 3D graphics as well as render other types of effects. The chip was designed by Argonaut Games, who developed the first Super FX title Star Fox. While the SNES alone was capable of rendering polygons (such as in The Legend of Zelda: A Link to the Past), only with the Super FX could the system render large amounts of 3D objects.
Super FX content is rendered entirely on the chip, which periodically passes a finished image to cartridge RAM then to video RAM, where the image is integrated into the image rendered by the SNES proper. 
The Super FX chip was one of the first attempts at enabling 3D console games. It directly competed with the Sega Virtua Processor, which was more powerful but was also more expensive. Many games used the Super FX and its variants, including Star Fox, Super Mario World 2: Yoshi's Island, and Doom.
Development
Usage
Super FX
Dirt Racer

Dirt Trax FX

Vortex
Super FX 2
Unreleased
Comanche
Powerslide

FX Fighter

Transformers Generation 2
Trivia
Internally, the prototype name for this chip was Super Mario FX[1].
See Also
List of Super Nintendo Entertainment System Enhancement Chips