Shadowgate 64: Trials of the Four Towers is a first-person search and find style adventure game released for the Nintendo 64.
Main Plot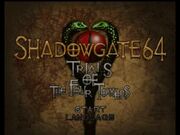 The player plays as a halfling named Del Cottonwood who, guided by the ghost of Lakmir, has to travel through the (Disciples' Tower, Lakmir's Tower, Trials Tower, Dragon Tower) and surrounding town to stop the evil leader, Belzar, from reviving the Warlock Lord. They complete the game by collecting different items and using them in different ways.
Characters
Locations
Items
Trivia
At the end of the game, the epilogue says: "Keeping tight hold of the dragon's neck, you wonder where your adventures will take you!" It can be assumed that this was a set-up for the game's planned sequel, Shadowgate Rising.
The game's planned sequel, Shadowgate Rising, was never released due to the upcoming release of the GameCube.
Other Games in the Series
Shadowgate Rising for the Nintendo 64, which was not released
Community content is available under
CC-BY-SA
unless otherwise noted.