Seattle Mariners
[
Edit
]
[
Talk
]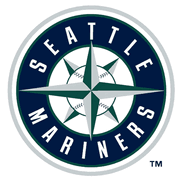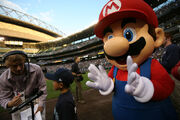 The Seattle Mariners are a Major League Baseball team in Seattle, Washington, established in 1977. They play for American League West in the West Division & is now represented by CEO Howard Lincoln.
The Mariners principal owner before that was Nintendo's 3rd president Hiroshi Yamauchi who was the one who purchased the team in 1992. Yamauchi helped keep the Mariners in Seattle when he stepped in to purchase the team at the time from former owner Jeff Smulyan who was looking to move the club to Tampa Bay.
This was done as favor to the Seattle area & team, since Yamauchi got involved as his home was in Redmond, Washington, next to Nintendo of America HQ.
Although he retired as chairman of Nintendo in 2002, he served as head owner of the team until his passing in 2013. After his death, The team spoke greatly of his contributions to the city of Seattle & baseball:
"Mr. Yamauchi will be remembered for his role in moving forward the opportunity for Japanese baseball players to play in the United States. He will forever be a significant figure in Mariners Baseball history.
We are proud not only that he made the Mariners the first Major League Club with international ownership, but also that the franchise continues to represent its region with such distinction and strong global roots. I extend my deepest condolences to Mr. Yamauchi's family, friends and business associates."
The Mariners built a strong relationship with Nintendo in a business sense, as the stadium is usually covered in ads for the Wii, Nintendo DS, Nintendo 3DS, Wii U, and Nintendo Switch.
Under Yamauchi's ownership, they had several outstanding Japanese players sign with the club, including 10-time All-Star right fielder Ichiro Suzuki and current standout right-hander Hisashi Iwakuma. Other Japanese players during Yamauchi's tenure have included former closer Kazuhiro Sasaki, reliever Shigetoshi Hasegawa, catcher Kenji Johjima and infielder Munenori Kawasaki.
On April 27, 2016, Nintendo of America issued a press release stating it would sell most shares it held of Seattle Mariners ownership to First Avenue Entertainment limited partnership. Nintendo retained a 10% ownership of the team after the sale was completed in August 2016.