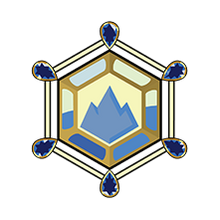 A badge within the Pokémon series is an item to show that a trainer has defeated a Gym Leader. Trainers need to collect all the badges from the a region to be able to challenge at that region's Pokémon League.
In the games, badges affect a Pokémon's behavior. A symbol of competence on the Trainer's part, badges force traded Pokémon under a certain level to obey. Additionally, Trainers cannot have a Pokémon use an HM move outside battle without the appropriate badge. Also, beginning in the fourth generation, the number of badges a Trainer possesses affects which items Poké Marts sell. The more badges, the more items that become available for purchase, with more expensive items generally appearing after more badges are obtained.
List of badges
Indigo League
Orange League
These sets of Badges only appear in the anime. Trainers must receive these Badges from the Orange Crew.
| | Badge | Gym Location | Gym Leader |
| --- | --- | --- | --- |
| | Coral-Eye Badge | Mikan Island | Cissy |
| | Sea Ruby Badge | Navel Island | Danny |
| | Spike Shell Badge | Trovita Island | Rudy |
| | Jade Star Badge | Kumquat Island | Luana |
Johto League
Hoenn League
Sinnoh League
The maximum level that Pokémon will obey you increases every two Badges (2 Badges - Level 30; 4 Badges - Level 50; 6 Badges - Level 70; 8 Badges - All Pokémon).
Unova League
Some HMs cannot be obtained until obtaining certain Badges but they are not required since traded Pokémon can use HMs before acquiring Badges.
Pokémon Black and White
Pokémon Black 2 and White 2
Kalos League
Community content is available under
CC-BY-SA
unless otherwise noted.