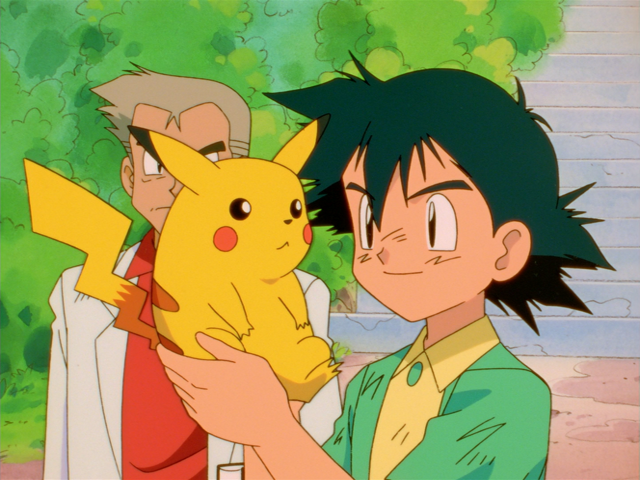 "Pokémon, I Choose You!" is the first episode of the Pokémon anime television show. The highlight of the episode is when Ash Ketchum, the series' hero, obtains his first Pokémon Pikachu, who is no doubt the series' most popular Pokémon species.
Plot
The beginning of the story starts with Ash, the hero of the series, is just turning ten, thus allowing him to obtain his first Pokémon. He is up late and dreaming of his first Pokémon (throws his alarm clock in his sleep) and got up late (as usual for Ash). The only Poké ball left at Professor Oak's lab where you get your first Pokémon is a Pikachu, and despite not being the one he wants he takes it nonetheless. At first, his new Pikachu is disrespectful to Ash, and they end up having a hard time with each other. Once the duo is attacked by a wedge of Spearow, the poor Pikachu is then injured baddly, leaving Ash to go in and save him (borrowing Misty's Bike in the process). After Pikachu realizes how nice he really is, he uses the rest of his energy to abrogate the flock of Spearow. With this, the friendship between the two begins.
List of Pokémon
Pikachu
Squirtle
Onix
Gengar
Nidorino
Dodrio
Rattata
Pidgey
Spearow
Sandshrew
Mankey
Gyarados
Ho-Oh
Magikarp
Voltorb
Other information
Throughout the series, Pikachu never enters his ball, and stays out with Ash. However, in this episode you can see Pikachu in his ball, making it the only one.
Community content is available under
CC-BY-SA
unless otherwise noted.