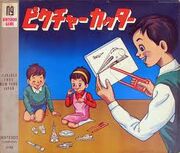 The Nintendo Picture Cutter is a toy Nintendo released in Japan in 1965 for 800 yen. The picture cutter comes with several sheets of paper with different designs on them ranging from animals to vehicles that could be cut out via a utensil with two points. It's unclear exactly how many different designs were featured in the set, though the following can be confirmed through advertising: animals include a giraffe, a crocodile, and a squirrel. Other items include the Eiffel Tower, an electric train, a disc, an astronaut, and a rocket ship.
An electric version of the Picture Cutter, called New Picture Cutter, was released the same year for 1,000 yen, 200 more than the original Picture Cutter.
Community content is available under
CC-BY-SA
unless otherwise noted.