Quote

"

Rusty, you've been like a son to me over the years.

"

— Pappy Van Poodle
Pappy Van Poodle is a character from Rusty's Real Deal Baseball on the Nintendo 3DS. He only appears if the player does not negotiate with Rusty Slugger. He is Rusty's old mentor who has been known to help the store owner during rough times.
History
Pappy Van Poodle made his first and only appearance in Rusty's Real Deal Baseball. In the game, Pappy Van Poodle served as a mentor to Rusty, giving him advice and objects to help him out. If all games are bought for $4.00 (the full price) and you do not give Rusty the items that he needs to progress the story (which would normally be done by haggling with Rusty), Pappy Van Poodle will appear towards the end of the game and give Rusty the item that you were supposed to give him in the haggling process. Pappy Van Poodle is also mentioned a few times by Rusty throughout the game, but never appears except under these specific circumstances.
In one of his later scenes, Pappy finds one of Rusty's pups asleep in an alleyway, handing the pup to Rusty.
Personality
Pappy Van Poodle has been Rusty's mentor and friend for more than 90 dog years. He is mentioned to be the biggest fan and supporter of the 'Rusty's Sluggers' baseball team, and once threw out his back cheering. Rusty describes him as an unofficial team mascot. He describes Rusty to be like a son to him and gives him flower's showing his kindness
Japanese version
The Japanese version of "Rusty's Real Deal Baseball" features a Pappy Van Poodle with the name Inuzō Toipū, that has a different outfit and backstory.
Discovery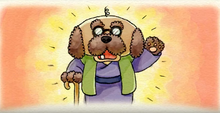 Pappy Van Poodle was largely unknown online due to the very unlikely method needed to even encounter him in the game. He was first referenced on a Japanese blog known as ポズカゴ (Pozukago) in 2013 just 6 days after Rusty's Real Deal Baseball was released in Japan, then he was mentioned in some places here and there around the internet, but not mentioned again until YouTuber Nick Robinson created a video describing how he found Pappy Van Poodle by accident. You can see the video here.
Because of how unlikely encountering Pappy is, before Nick Robinson's video was uploaded the term "Pappy van Poodle" had 0 search results on Google.