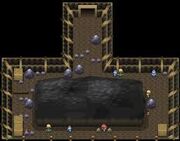 Oreburgh Mine is one of the many different caves in the Nintendo DS video games Pokémon Diamond and Pearl and Pokémon Platinum. In all, there are two levels of the mine, with all three of the species appearing on both. Since two of the Pokémon have appeared elsewhere, you'll only want to, unless you don't have the others, try and catch an Onix.
On the first level of the mine is a X Defend, while on the bottom level you'll find an Escape Rope and Potion. The main goal of this area is to get to the very end of it and find Roark, the Gym Leader of Oreburgh City. Once you do, you'll be able to battle her in her Gym and collect the first badge. While going to get her, you'll also encounter a couple of trainers who will want to challenge you to a battle.
List of Pokémon
Community content is available under
CC-BY-SA
unless otherwise noted.