Nintendo Wiki is the gateway to information on everything Nintendo - from the NES and the original Game Boy to the Wii U and the Nintendo 3DS. A hub for all games and things Nintendo, Nintendo Wiki has portals to Mario, Pokemon, Legend of Zelda, and more with extensive gameplay information. If you need to find anything Nintendo then the Nintendo Wiki is for you!
Trending articles
Popular categories
View full main page
Nintendo Wiki
13:51, 7 April 2021
Category:Fonts
03:25, 30 March 2021
Category:Portals
07:31, 27 January 2021
Category:Videos
07:30, 27 January 2021
Category:Images
07:06, 27 January 2021
Nintendo Wiki:Links
02:00, 3 January 2020
Nintendo Wiki:Highlight.css
15:21, 5 September 2019
Category:Blog posts
23:51, 12 August 2019
Category:Articles by type
22:32, 9 March 2014
Category:Content
19:07, 14 June 2012
Category:Nintendo Wiki
13:10, 14 June 2012
Category:Organization
01:28, 12 June 2011
Featured article
Vivian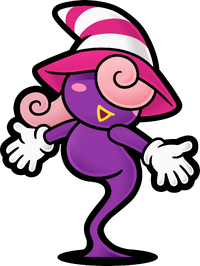 Vivian is a major character from Paper Mario: The Thousand-Year Door for the GameCube. Vivian originally worked as a member of the Shadow Sirens, alongside her sisters, Beldam and Marilyn. Later, Vivian defects from the Shadow Sirens and joins Mario as his fifth party member. She is consistently put down by her oldest sister, Beldam, and has had a poor relationship with both her sisters for quite some time when Mario meets her. Although she suffers from an inferiority complex throughout the events of the game, she learns to respect herself as she travels with Mario.
Previously featured: Idunn • Galacta Knight • History of Nintendo
Archive • Nominations
Blog Posts
This month's featured article is Vivian. This was chosen by myself as there were no suggestion made. Don't forget to to suggest A class articles on the Nomination page if you want them to be featured for a month.
Vivian is the fifth party member in Pa…
I kind of regret doing this because I look dumb for posting it
---
Quotes
"Your people have long amused me, Midna. To defy the gods with such petty magic, only to be cast aside… How very pathetic. Pathetic as they were, though, they served me well. Their anguish was my nourishment. Their hatred bled across the void and awakened me. I drank deep of it and grew strong again. Your people had some skill, to be sure…but they lacked true power. The kind of absolute power that those chosen by the gods wield. He who wields such power would make a suitable king for this world, don't you think?"
—Ganondorf from The Legend of Zelda: Twilight Princess

---
"I've been selling turnips here on Sunday morns for 'bout 60 years now. Maybe even more!""
-Joan from Animal Crossing: New Leaf