Featured article
Duma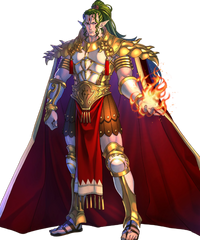 Duma is a Manakete who serves as the final boss and main antagonist of Fire Emblem Gaiden and its remake, Fire Emblem Echoes: Shadows of Valentia. He is considered as the patron deity of Rigel where he is refered to as the War Father. He is the brother of Mila, the one considered as the patron deity of Zofia. Like most older Manaketes/Dragons in the series, he eventually became mad and caused war between Rigel and Zofia. Duma is also a playable character in Fire Emblem Heroes.
Previously featured: Captain Olimar • Kid Icarus • Shulk
Archive • Nominations
Featured image
Clubhouse Games: 51 Worldwide Classics
"All of the games, none of the setup."
More...
Previously featured:
Archive • Nominations
Blog Posts
This month's featured article is Duma. I saw the Golden Sun nomination after I changed all the related templates so instead of changing everything a second time, Golden Sun will be the featured article of September. Don't forget to to suggest A class…

Read more >
---
This day in history
August 6th
1986: Metroid is released on the Famicom Disk System in Japan.
1993: Secret of Mana is released on the Super Famicom in Japan.
Quotes
"The one chosen by my creator. I have been waiting for you. You will play a role in a great destiny. According to your social customs, I should provide you with my personal designation. Fi is the name I was given. I was created for a single purpose, long before the recorded memory of your people. I must aid you in fulfilling the great destiny that is your burden to carry."
—Fi from The Legend of Zelda: Skyward Sword

---
"Grraaargh?! Slimy little hipster!"
—DJ Octavio in Splatoon