Nintendo is a widely-known video game company that brings joy and entertainment to families, gamers, fans, and, well... anyone across the globe!
We are a growing Fandom community where we contribute to Wiki-based content on Nintendo, one of the most-successful and largest video game companies in the world. Every day, we are editing, creating, and adding to articles on our favorite franchises, including Mario, The Legend of Zelda, Pokémon, Kirby, Metroid, Fire Emblem, Super Smash Bros. and so much more. Not only that - this Fandom also covers information about Nintendo's systems, companies and affiliates, third-party franchises, etc.
Register a Fandom account today, and you can start contributing, too! Created by fans, for fans!
Visit our community portal and learn more about the Nintendo Wiki.
Andross
Emperor Andross is the autoproclaimed emperor of planet Venom and the main antagonist of the Star Fox series, debuting in Star Fox. He is a brilliant scientist who was banished from his home planet of Corneria due to his experiments that were judged unethical by many. He was exiled to the distant planet of Venom as punishment but managed to gather followers and eventually become the emperor of Venom and was at the head of a military force powerful enough to threaten the entire Lylat system.
Previously featured:The Legend of Zelda: Majora's Mask • King Dedede • Mario Paint
List (Archive) • Nominations
This month's featured article is Andross from the Star Fox series. This was chosen by myself as there were no new suggestion made. Don't forget to suggest A class articles on the Nomination page if you want them to be featured for a month.
There is n…
17: Tri Force Heroes.
16: Four Swords Adventures.
15: Zelda 2: The Adventure of Link.
14: Skyward Sword.
13: Phantom Hourglass.
12: Twilight Princess.
11: Sprit Tracks.
10: The Legend of Zelda.
9: Oracle of Ages/Seasons.
8: Majorcia's Mask.
7: Link's Awakeni…
So, I've noticed that their's been trouble with nobody suggesting good featured articles. Either their is no suggestion made, or the suggestion's that are made are not good enough. However, I've came up with an idea that might help that problem. I t…
---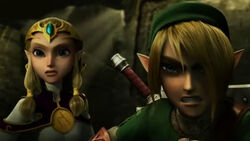 Imagi Studios (closed as of 2010) has submitted a pitch for an animated film based on
The Legend of Zelda
, which Nintendo ultimately rejected.
Fire Emblem Echoes: Shadows of Valentia
Fjorm
"The goal of this company has always been prosperity. Unfortunately, you imperfect, fragile life-forms were a liability. So you are invited to witness the end of history. A new age shall begin--an age of infinite prosperity. Enjoy your destruction."
—Star Dream in Kirby: Planet Robobot

---
"Klump! Didn't I say no news, no calls, no tyranny until tomorrow!? It's a bad villain day!"
—King K. Rool in Donkey Kong Country

This is a fan community contributed by fans, for fans. The Nintendo Wiki is in no way affiliated with Nintendo, its subsidiaries, and/or its partners.