Featured article

Rakugakids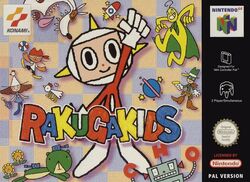 Rakugakids is a fighting game made by Konami for the Nintendo 64. It features an art style based on children's doodles, hence the name, which comes from the Japanese word "Rakugaki" which means doodle. It was never released in America.
The Twinkle Gang sail to an island, where they find magical crayons in a cave, which they split among themselves, but the school bully Val steals the pack with the last two crayons. Val draws Mamezo, and the two cause trouble in Twinkle Town. The Twinkle gang draw their own superheros to stop Val and Mamezo.
Rakugakids has multiple modes, such as the story mode, where you must go up against every character (excluding Inuzo) until you reach the boss, Darkness. There is also a training mode, which lets you train a CPU player to go through the story mode.
Previously featured: EarthBound • Mario Power Tennis • X-Parasite
Archive • Nominations
Blog Posts
Since Ghirahim is too busy at the moment, here are the articles from last month & this month. Come check them out!
November 2021:
EarthBound is an RPG game for the SNES, which was developed by Ape Inc. and HAL Laboratory and published by Nintendo and…
Cononon
•
This is just a blog post dedicated to these categories I made, so I can get to them a bit quicker.
Cononon
•
look at that, 1234 edits, let's hope I can get up to 12345 edits lol.
---
This day in history
Quotes
"You really like it? I knew a hottie like you would pick up on how premium this poster is. I got this baby at a totally hi-technical 'Pink Princess' anime event. I was going to get a CD, but I freaked when I saw this super-rare poster! The voice actor for the princess AND the director signed it, as you can see. As I'm quite sure you know, the director changed after season three, so it's rare. Plus, look here! The logo was done in extra-premium gold holographic foil! And the paper, oh man, it's UV resistant! So you never have to worry about fading. I could stick it on some backing board for you. How's that sound?"
—Francis in Super Paper Mario

---
"I HAVE FURY!"
—Fawful in Mario & Luigi: Superstar Saga