Featured article

Earthbound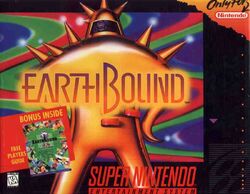 EarthBound (JPJapanese: MOTHER2ギーグの逆襲

Romaji: Mazā Tsū Gīgu no Gyakushū

Meaning: MOTHER2: Gyiyg Strikes Back!) is an RPG game for the SNES, which was developed by Ape Inc. and HAL Laboratory and published by Nintendo and a sequel to EarthBound Beginnings(JPJapanese: マザー

Romaji: Mazā

Meaning: Mother), a game that was released on the Famicom.
It's considered a cult classic after receiving poor commercial success in America. Ness would later go on to play a major role in all Super Smash Bros. video games as a playable character.
A sequel to the game, Mother 3, was released in Japan on the Game Boy Advance years later, though never relased internationally. It was originally planned to be released on the Nintendo 64, but it met a dramatic delay.
Previously featured: Mario Power Tennis • X-Parasite • Linebeck
Archive • Nominations
Blog Posts
This is just a blog post dedicated to these categories I made, so I can get to them a bit quicker.
look at that, 1234 edits, let's hope I can get up to 12345 edits lol.
In development
Stage
Universe
Super Smash Bros.
Melee
Brawl
3DS/Wii U
Ultimate
Battlefield
Super Smash Bros.
N/A (Playable in single-player modes)
Starter
Final Destination
N/A (Playable in single-player modes)
Starter
Big Battlefield
N/A
Starter (Wi…
---
Quotes
"LARGE-BRAINED KLUTZES! I am not part of your stupid act! I am the ringmaster! The greatest ringmaster of them all at the greatest circus of them all! I am your fearless leader! Your master of pomp and ceremony! I am to be treated with... respect!"
—Morton Koopa Jr. in Super Mario World

---
"Drat, we wasted this episode cheering the good guys!"
—James in Pokémon