Nintendo is a widely-known video game company that brings joy and entertainment to families, gamers, fans, and, well... anyone across the globe!
We are a growing Fandom community where we contribute to Wiki-based content on Nintendo, one of the most-successful and largest video game companies in the world. Every day, we are editing, creating, and adding to articles on our favorite franchises, including Mario, The Legend of Zelda, Kirby, Metroid, Fire Emblem, Super Smash Bros. and so much more. Not only that - this Fandom also covers information about Nintendo's systems, companies and affiliates, third-party franchises, etc.
Register a Fandom account today, and you can start contributing, too! Created by fans, for fans!
Visit our community portal and learn more about the Nintendo Wiki.
So, I've noticed that their's been trouble with nobody suggesting good featured articles. Either their is no suggestion made, or the suggestion's that are made are not good enough. However, I've came up with an idea that might help that problem. I t…
This month's featured article is The Legend of Zelda: Majora's Mask. This was chosen by myself as there were no new suggestion made. Don't forget to suggest A class articles on the Nomination page if you want them to be featured for a month.
I didn't …
17: Virtual Boy.
16: 2DS.
15: Wii u.
14: Gameboy Color.
13: Game boy Advance.
13: Game boy Advance SP.
12: N64.

9: NES.
8: Gameboy.
7: SNES.
6: Wii.
5: tied with NDS, New 2DS XL, 3DS and 3DS XL.
4: New 3DS
3: New 3DS XL
2: Nintendo Switch.
1: Gamecube.
…
---
With the
Booster Course Pass
DLC,
Mario Kart 8 Deluxe
will have the highest amount of tracks of any game in the
series
, with a total of 96.
May 18th
2009: Punch-Out!! for Wii is released in America. It was the first time a new entry in the series has been released in years and was headed by Next Level Games, the Canadian team behind the Mario Strikers series.
Tomodachi Life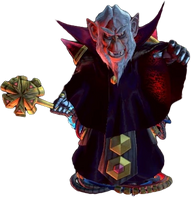 Andross
"Navi... Navi, where art thou? Come hither.... Oh, Navi the fairy... Listen to my words, the words of the Deku Tree... Dost thou sense it? The climate of evil descending upon this realm... Malevolent forces even now are mustering to attack our land of Hyrule... For so long, the Kokiri Forest, the source of life, has stood as a barrier, deterring outsiders and maintaining the order of the world... But... before this tremendous evil power, even my power is as nothing... It seems the time has come for the boy without a fairy to begin his journey... The youth whose destiny it is to lead Hyrule to the path of justice and truth... Navi...go now! Find our young friend and guide him to me... I do not have much time left. Fly, Navi, fly! The fate of the forest, nay, the world, depends upon thee!"
—Great Deku Tree in The Legend of Zelda: Ocarina of Time

---
"This news has just filled my heart with rainbows!"
—Ghirahim in The Legend of Zelda: Skyward Sword

This is a fan community contributed by fans, for fans. The Nintendo Wiki is in no way affiliated with Nintendo, its subsidiaries, and/or its partners.