The Nintendo Switch Lite (also called Switch Lite or HDH-001) is an eighth-generation hybrid gaming system developed by Nintendo in 2019 and is a smaller and lighter version of the mainstream Nintendo Switch.
The Switch Lite lacks detachable Joy-Cons and can't be docked into a TV, thus making it more suitable for play on the go and also serves as a more affordable option to gaming consumers.
The console was announced in a trailer by Yoshiaki Koizumi on July 10th, 2019 before being released a couple of months later. It is available in an exotic range of yellow, turquoise, grey, and coral paint jobs, and is marketed at $200 dollars or the regional equivalent. On May 21st, Nintendo is going to release the blue variety of color for the system.
Hardware differences
Unlike the original Nintendo Switch, the Nintendo Switch Lite cannot connect to a TV. The console has a smaller screen, allowing it to be taken on the go easier. There are no detachable Joy-Cons, as they are integrated into the system. Additionally, instead of arrow buttons, there is a D-pad instead. The IR Motion Camera and HD rumble feature from the Nintendo Switch have also been removed. The auto brightness has also been removed.
Due to this, games that require motion controls (such as 1-2-Switch and Super Mario Party) require an extra set of Joy-Cons to work. The device reportedly has a better battery life, having 4-7 hours versus the 3-6 hours of the original Nintendo Switch, but the revised models of the original platform have since been tweaked with even battery life.
Layout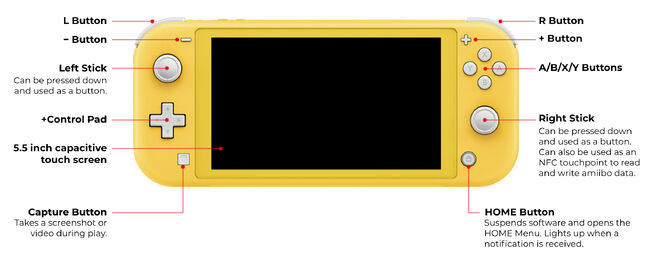 Other than the omissions of the TV docking feature, the Switch Lite uses a largely similar arrangement and layout of buttons as its mainstream Switch counterpart.
The game card slot, audio jack, volume, and power buttons are located along the top with the Z buttons tucked just behind the R and L. The bottom edge includes a USB connector for the AC adapter and a microSD slot.
Incompatible games/add-ons
Out of the box, this smaller and cheaper version of the Switch cannot play games that require motion controls or do not support handheld mode. The Switch is still capable of playing these games, but it will require buying an extra set of Joy-Cons. None of the Nintendo Labo kits are compatible either. Some games also lose some optional features that the IR Sensor and HD Rumble gave, most notably the motion controls and HD Rumble in Super Mario Odyssey. 
Game
Attachment Needed
A Joy-Con controller

(will need two or four if playing multiplayer)

2x Joy-Con controllers
Special editions
Zacian & Zamazenta
A special edition paint job dedicated to Zacian and Zamazenta, creatures of the  Pokémon Sword and Shield game, has been released on November 8th of 2019, a week in advance before the launch of the official game. 
It comes in a light grey colour scheme with a splash of pink and blue for the buttons, and also includes a faint sketch of the creatures' artworks on the back cover.
Trivia
The original Nintendo DS system released back in late 2004 also had its equivalent 'Lite' version in early 2006.
According to a source, it has been reported that Nintendo is currently working on an updated model of the Switch Lite console after complaints have emerged about cases of 'Joy-Con drift', a symptom of the Joy-Cons still registering movement even when they're meant to be idle. Therefore, the reports suggest that Nintendo are working to resolve this issue after filing a v2 patent.[2][3]
References
Community content is available under
CC-BY-SA
unless otherwise noted.