Nintendo Switch (OLED Model)
[
Edit
]
[
Talk
]

The Nintendo Switch (OLED Model) is a revised model of the standard hybrid model of the Nintendo Switch. It will launch in October 2021. The main alteration is the new 7 inch OLED screen, replacing the LCD screen. There is no performance improvements beyond the 2019 revision. A revised dock will be released along this model. The OLED Model is compatible with all current Nintendo Switch accessories
The revision was announced in a trailer on July 6, 2021. This trailer detailed the release date as well as all the improved features of the model and dock.
Hardware Differences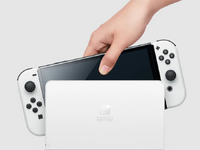 The OLED model's main new feature is the 7-inch OLED screen. The screen is larger than the original model, with reduced bezels. The OLED screen producing higher quality than the standard LCD display with darker blacks and brighter whites. Beyond, the screen, the OLED model has better speakers, a new adjustable stand and more built-in memory at 64GB. The stand is much wider than the original model, covering the width of the Switch console and can be adjusted to a multitude of angles.
The OLED Model comes with a revised dock, that will be available separately. The dock is a bit thicker and substitutes the USB port inside the dock with a Ethernet port.
Variations and Special Editions
The standard model is still black, but it will launch with two variations. The first variation is like the original model with blue and red Joy-Cons and a black Dock. The other launch variation will include White Joy-Cons and a white Dock.
Development and pre-release
Reception
Trivia