Nintendo Power V19 is the 19th issue of Nintendo Power magazine. It's also a strategy guide for many of the 4-player video games for the Nintendo Entertainment System, the main game being NES Play Action Football. This would be the last issue of Nintendo Power that they publish strictly as a strategy guide.
Contents
4-Player Fun!!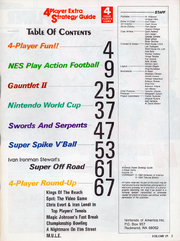 This 5-page intro section talked about the accessories needed to play simultaneously with 4 players, such as the
NES Satellite
and the
NES Four Score
. It also mentioned the specific icon to look for on the game box when purchasing a 4-player game.
NES Play Action Football
This section of the magazine was about NES Play Action Football. It explained how to play the game of football and also talked about different plays and sketches. It included a page for each team as well, giving full rosters and each teams strengths and weaknesses.
Gauntlet II
This section was about Gauntlet II. It gave specific information on items and had maps for each area.
Nintendo World Cup
The next section talked about the soccer game Nintendo World Cup. It mentioned the differences between the surfaces on which a team can play: grass, soil, sand, bumpy, concrete, and ice. And, as with NES Play Action Football, it had a page for each teams strengths, weaknesses and rosters.
Swords and Serpents
This section was about Swords and Serpents. It had maps for the first 5 levels, as well as gave tips on keeping the players party alive.
Super Spike V'Ball
This section talked about Super Spike V'Ball. It explained different moves and gave strategies on how to win. It also had each teams strengths and weaknesses.
Super Off Road
The next section was about the racing game Super Off Road. It revealed the prices for each item available to customize a players truck. It also had maps for many of the tracks as well as the locations of the obstacles within the tracks. It also explained how to avoid those obstacles.
4-Player Round-Up
This final section gave quick tips on many other 4-player games. The games included here are listed below.
Community content is available under
CC-BY-SA
unless otherwise noted.