Nintendo Power V13 is the 13th issue of Nintendo Power magazine. It's also a complete strategy guide for the Nintendo Entertainment System video game Super Mario Bros. 3. No other games were covered in the issue and there was no contest. The cover of the issue labeled it as Vol. SG1/NP13, SG standing for Strategy Guides. Over the next few months, Nintendo Power would release three other issues that focused solely on strategies for specific games. This issue covered every aspect of Super Mario Bros. 3 in great detail, from every stage to every enemy.
Contents
Basic Moves
This 1-page section talked about how to move Mario and Luigi across the screen. Everything from walking and running to sliding and warping through pipes.
Power-Ups & Magical Items
This section gave information on the different suits Mario and Luigi could acquire, as well as items, such as the Starman and P-Wing.
Advanced Moves
This section explained how to perform some of the more complicated moves, such as sliding while crouching.
Unlimited 1-Up Techniques
This page gave secrets on how to rack up numerous 1-Ups.
Mario's Foes
These two pages had complete listings of all the enemies within the game. Everyone from the Koopa Troopas and Goombas to the Koopa Kids.
Matching Game & World Data Box
This page talked about the Matching Game panel and the special items moving around on the World maps, like the White Mushroom House.
Worlds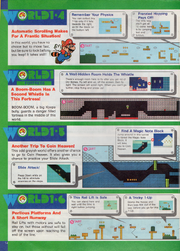 The next section consisted of over 80 pages worth of maps and details about each and every level within the 8 Worlds. It also revealed all the hidden secrets.
Staff
Publisher: Minoru Arakawa, Hiroyuki Kato
Editor in Chief: Gail Tilden
Art Director: Yoshi Orimo
Senior Editors: Pam Sather, Howard Phillips
Copy Writer: Dan Owsen
Concept & Design: Work House U.S.A., Work House Co., Ltd., Tommy Yazawa, Seiji Sato, Kochan Yoshizu
Layout: Hiroshi Ohashi, Shuji Kurokawa
Illustrations: Makikazu Ohmori, Hideaki Ito
Chief Producer: Tsutomu Otsuka
Producer: Masayoshi Suzuki
Project Coordinators: Yoshio Tsuboike, Hiroyuki, Kurano
Community content is available under
CC-BY-SA
unless otherwise noted.