Raise a Floppa - The Loop
Play Sound

The Nintendo DSi XL (JPJapanese: ニンテンドーDSi LL

Romaji: Nintendō Dī Esu Ai LL

Meaning: Nintendo DSi LL) (originally called Nintendo DSi LL in Japan and shortened to DSi XL and DSi LL) is a larger version of the Nintendo DSi, initially introduced in Japan in late 2009. It came with new features to further improve upon the DSi such as an extra large 4.2" screen, improved battery life and a new addition, the Touch Pen accessory.
It was the fourth and last model out of the Nintendo DS series, which composed of the original DS, DS Lite, and DSi systems. The generation of DS consoles was succeeded by the Nintendo 3DS series the following year. All the four models were discontinued in 2014. Like the regular DSi, it is not backwards compatible with Game Boy Advance games. It was discontinued worldwide on the same day as the DSi on September 30, 2014, ten days before the release of the New Nintendo 3DS and New Nintendo 3DS XL.
Hardware
The Nintendo DSi XL features 4.2 inch screens, much larger than the current model and comes with a longer stylus and a new Touch Pen -, however,  the Nintendo DSi XL's battery, depending on the screen's brightness, lasts 1–3 hours longer than the standard Nintendo DSi.
Every system automatically comes packaged with three DSiWare games in its software, which are Brain Age Express: Arts & Letters, Brain Age Express: Math, and Photo Clock. In Japan, it comes with three different DSiWare games including A Bit of Brain Training: Arts, A Bit of Brain Training: Science, and Kiyou Akira Rakuhiku Language Easier (Dictionary).
Technical specifications
| | |
| --- | --- |
| CPU | Two ARM architecture CPUs, ARM7 and ARM9. |
| Size when closed | 161 mm. long, 91.4 mm. wide, 21.2 mm. tall |
| Top screen | 3.36 inches long, 2.52 inches wide. |
| Bottom screen | 3.36 inches long, 2.52 inches wide. |
| Pixels | 256 * 192 (49,152) per screen. |
| Weight | 314 grams |
| Colors | 260,000 colors can be produced by the Nintendo DSi XL. |
| Sound | Stereo sound. There are two speakers on the top portion of the handheld. A headphone jack is on the side of the bottom portion. |
| Wi-Fi | 802.11b/g wireless. |
| Storage | The system can store 256 MB, though SD Cards can provide more space, up to a maximum of 32 GB with SDHC Cards. |
| RAM | 16 MB |
| Battery | A 1050 mAH battery that lasts 4 to 17 hours depending on various factors including the light settings and how many times the player has charged the system. After around 500 charges the battery may have to be replaced. |
| Media | DS game cards, SD cards (32 GB and under). |
| Camera | Two .3 megapixel cameras. |
Development, history, and sales
The Nintendo DSi XL was developed by Nintendo Research and Engineering in Kyoto, Japan. Masato Kuwahara was the project leader, while other prominent members included Kazuo Yoneyama, who provided a large amount of support to the designers, Masaki Amano, the mechanical designer, and Takaki Fujino, the designer (it was Fujino's first time as a system designer, though he had been with Nintendo for seven years). Three people were responsible for the planning of the Nintendo DSi XL, which each one assigned to a certain part of the system. Amano, for example, was responsible for the upper screen.
While the Nintendo DSi XL is an enhanced Nintendo DSi, Nintendo Research and Engineering initially planned to develop a larger DS Lite, and even created a prototype mold for the system. This enlarged DS Lite was in development during 2007, though because of the increased demand for not only the Wii, but the then-current DS Lite model, Nintendo president Satoru Iwata made the decision not to take the development any further. After the idea for an enlarged DS Lite system was put on the shelf for later, Nintendo began development on the Nintendo DSi. During this time period, the designers at Nintendo R&E had already made the decision to develop a larger version of the DSi after they were finished. Iwata told the employees to develop both a large and small DSi, but because it wouldn't be reasonable to work on them both at the same time, they would have to work on them separately. Kuwahara is quoted saying that working on both pieces of hardware at the same time would have been "absolutely impossible".
Kuwahara has stated that Yoneyama was a great support to him and the development team. Yoneyama assisted Nintendo by going to China for a long period of time to help those at the Chinese Nintendo factory. Kuwahara mentioned that he felt slightly bad for sending Yoneyama off because of his age, saying that he was "a little concerned about his health". Yoneyama, who was in China prior to the initial stages of the DSi XL development, stated that the team back in Japan sent him a crudely drawn image of the DSi XL which he described as a "really bad drawing". Around this point in time, Yoneyama discovered that developing a system with 4.2 inch screens would be feasible for Nintendo, which was a concern around the company. The same designs that the team created would move on to Fujino, who would be asked to create a proper design of the handheld.
After months of rumors over a new DSi, on October 29, Nintendo Japan announced a new kind of DSi. Its main new feature is the new large 4.2" screen design. Afterwards, Nintendo released the console in Japan on November 21, 2009,[2] in Europe and UK on March 5, 2010,[3][4] in North America on March 28, 2010,[5] in Australia on April 15, 2010,[6] with the name "Nintendo DSi XL". In Japan, the Nintendo DSi XL sold 103,524 units in its first two days. To compare, the DS Lite sold 67,653 units and the PSP Go sold 28,275. The Nintendo DSi, on the other hand, sold 170,779 units while the original Nintendo DS sold 441,485 units.
Colours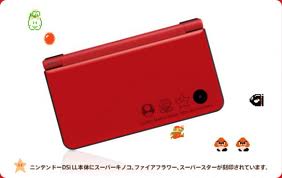 The DSi XL consoles were initially released in sombre hues of bronze and burgundy (wine red) at their launch. A natural white version was also released exclusively in Japan where they were first launched in 2009.[7]
This was followed up with more colourful paint jobs in the latter half of 2010, with bright blue introduced across all regions. Green and yellow colours were also delivered in European/Australian regions[8], and on top that there were plain red DSi XLs sold exclusively in Australia.[9]
The North American continent had the more sober palette of colours on the market (bronze, burgundy and blue), but to make up for this a metallic rose edition was released exclusively there.[10]
Themes
Two special themes for the DSi XL consoles were introduced:
LovePlus+ - three paint jobs were specially made for this Japan-exclusive dating simulation title, named LovePlus. They were all white with coloured depictions of three of the virtual girls sketched over, in green, pink, and blue.[11]
Super Mario Bros. 25th Anniversary - considerably more orthodox and accessible, a special red paint job was released across all regions as part of Mario's 25th anniversary that also brought along Super Mario All-Stars, a compilation of classic 90s Super Mario games on the Wii. The consoles also boasted outlines of a Mushroom, Fire Flower, and Star on the top panel as a reference to Mario's heritage.
Gallery
See also
References