My Pokémon Ranch
is a
WiiWare
video game initially released in March of
2008
. In the game, you can store up to 1,000 of your
Pokémon
from
Pokémon Diamond and Pearl
here, and then interact with the improved 3D models using your
Mii
character.
My Pokémon Ranch
costs 1,000
Wii Points
.
While in possession of Diamond or Pearl will dramatically improve the game experience, the games are not needed, as once you purchase the game you'll be given starter Pokémon and gradually get more and more.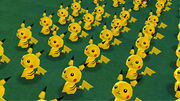 Special Pokémon
The player can acquire two very special Pokémon including Mew and Phione from the first and fourth generations, respectively. Each are at level 50 and to get them you'll have to perform different feats. For phione, you have to reach level 15 (250 Pokémon in the ranch) and trade a Leafeon for it, and for Mew, reach level 25 and trade it for a Pokémon egg.
Events
Every fifteen minutes in the game, a special event will occur that will make your Pokémon pose in picture-worthy stances. For example, one, called the totem pole, will some of the Pokémon to climb on top of each other, thus resembling a totem pole. For an another example, one, called a ring dance.
Reception
The game has widely received terrible reviews, with gaming websites IGN and WiiWare World both giving the game a 4/10, explaining the terrible graphics, stating that the models of the various different Pokémon look "hideous". As of now, the game has a score of 46% on game aggregater website Game Rankings.
Trivia
The Pokémon 3D models are also used in Pokémon Rumble and Pokémon Rumble Blast.
Community content is available under
CC-BY-SA
unless otherwise noted.