This page or section may need to be cleaned up due to improper organization of edits
This may include editing to correct spelling and grammar, and rewriting sections to ensure they are clear and concise.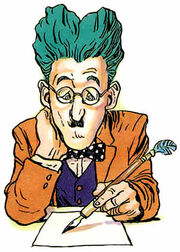 Mr. Write is a character in The Legend of Zelda: Link's Awakening. He is obviously based off of Dr. Wright from SimCity, not only because of his name though he looks strikingly similar. He depressingly writes a multitude of letters to a varying amount of people, though he never gets a reply.
Eventually Link will deliver a letter to him from another character, and to thank him he'll give Link the broom. The only purpose of the broom is to give it to Mrs. Ulrira in a complex trading sequence that starts with the Yoshi Doll and ends with the Magnifying Glass.
Community content is available under
CC-BY-SA
unless otherwise noted.