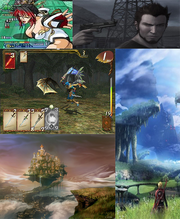 Monolith Soft Inc.(JPJapanese: 株式会社モノリスソフト

Romaji: Kabushiki-gaisha Monorisu Sofuto)(CNCorporate Number: 3013201013485) is a first party Nintendo developer purchased by Nintendo in 2007. Prior to the buyout, Bandai Namco owned a majority of the company. Nintendo originally only purchased 80% of Bandai Namco's 96%, but they bought out the rest in 2011. Company President Hirohide Sugiura and lead designers Tetsuya Takahashi and Yasuyuki Honne each also own a limited number of shares.
Company History
In 2011, Nintendo expanded Monolith Soft, and created a smaller branch of the company in Kyoto, so that they could work more closely with Nintendo. Yasuyuki Honne was made head of this branch, and their first game was Animal Crossing: New Leaf, which was released in Japan on November 8, 2012. Outside of co-developing Nintendo software, Monolith Soft Tokyo is also creating original software for Nintendo systems.
In September 2017, they opened Nakameguro GS studio. In June 2018, they opened fourth studio in Iidabashi.
List of games
Tokyo Branch
As a third party developer
As a first party studio
Development Support
Kyoto Branch
Development Support
Community content is available under
CC-BY-SA
unless otherwise noted.