Marvelous Games is a Japanese video game developer and publisher, with a long heritage in the gaming industry dating back to 1997. They are involved in a wide variety of titles that are wildly diverse such as Harvest Moon, No More Heroes, Contact, Muramasa: The Demon Blade, Avalon Code, Luminous Arc and a variety of other titles.
Originally known as Marvelous Entertainment, the organization underwent a merger in 2011 when it established a fresh identity and name changes.
History
For quite some time Marvelous was a company who published games exclusively for Japan, whereas publishers elsewhere in the world would publish the games for that region (example: while Marvelous published No More Heroes in Japan, Ubisoft did so in the states). When the company decided to expand elsewhere in the world, they first eyed Europe due to the near abandonment of Japanese companies there, and thus established Rising Star Games to publish titles along with partner Atari. This was done in 2004.
A year later Marvelous created an American branch named Marvelous Entertainment USA, though they wouldn't announce that they would start to publish games for the American audiences until 2007, partnering with XSEED Games. They published a heavy amount of games for the Wii and Nintendo DS, exceeding the number of games they produced for all the other consoles put together.
Merger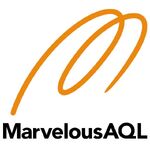 On January 10, 2011, Marvelous Entertainment announced a merger between it, AQ Interactive, Inc. and Liveware. The merger took place officially on October 5, 2011 and their name changed to Marvelous AQL as well as a new logo.
This was followed up with a further shake up on July 1st of 2014, when the company refreshed its logo once more and dropped 'AQL' in its name for an exclamation mark.
In 2015, Marvelous acquired mobile developer, G-Mode, along with the properties they obtained from Data East.
In May 2020, Tencent achieved the largest ownership at 20% stock ownership of the company. The founding family still holds the largest share collectively though.
Studios
The main development staff at Marvelous is divided into three studios. Honey∞Parade Games was established in 2017 for the production of Senran Kagura games and related properties. Marvelous First Studio was established in 2017 formally and has works on a wide variety of games for Marvelous including Fate/Extella Link, DAEMON X MACHINA and God Eater 3. Hakama Inc. is a studio established in 2018 that incorporated many of Neverland staff and is led by Yoshifumi Hashimoto. It works on the Story of Seasons and Rune Factory series.
Marvelous has established localization firms in Europe as Marvelous Games and in North America as XSEED.
List of games
Main article: List of Marvelous Entertainment games
Some of their most popular video games include:
Community content is available under
CC-BY-SA
unless otherwise noted.