Mario vs. Donkey Kong: Mini-Land Mayhem! (JPJapanese: マリオvs.ドンキーコング 突撃!ミニランド

Romaji: Mario vs. Donkī Kongu Totsugeki! Mini Rando

Fan Translation: Mario vs. Donkey Kong: Charge! Miniland) is a Nintendo DS video game and the fourth title in the Mario vs. Donkey Kong series. Developed by Nintendo Software Technology and published by Nintendo, Mini-land Mayhem! stars Mario, Donkey Kong and various other characters from the Mario series including Pauline, the woman Mario saved in the original Donkey Kong for arcades. The Mini Marios from the previous games return once again, as does the Mini-land location.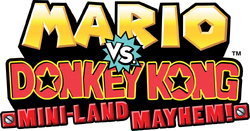 Gameplay
Video game critics described the game as being very similar to Lemmings. In each stage the player must guide miniature toy versions of the game's main characters including Mario, Toad and others. A Super Guide, similar to the one that initially appeared in New Super Mario Bros. Wii and was included in other games such as Super Mario Galaxy 2 and Donkey Kong Country Returns, is present in this title, making it the first non-platformer to use it. There are six worlds in the main story in addition to a seventh "S" (or special) world titled Rainbow Summit. In the game you play as mini mario and you use the sitalyis to control them. If one of the mini mario get hit they die. The goal is to get all of them to the door. There is also a level edittor.
Story
Mario is sponsoring, with his guest Pauline, the great opening of the Minilandia amusement park with the announcement that the first hundred customers would receive a toy Mini-Pauline. Unfortunately, being the 100th person to enter the park, Donkey Kong will not be able to receive the Mini-Pauline. Infuriated, Donkey Kong takes the true Pauline. And Mario, with his Mini-Mario, takes a train to save her. Mario and the toys will have to beat Donkey Kong so Mario can save Pauline. Donkey Kong is "defeated" at the end, where Mario gives him a Mini-Pauline and Donkey Kong is happy to receive it. At the end each of the characters in the game climbs on the wheel and exit the tail titles.
Community content is available under
CC-BY-SA
unless otherwise noted.