Luigi's Mansion: Dark Moon
[
Edit
]
[
Talk
]
Luigi's Mansion: Dark Moon (JPJapanese: ルイージマンション2

Romaji: Ruīji Manshon Tsū

Meaning: Luigi Mansion 2) (also known as Luigi's Mansion 2 outside North America and South Korea, Luigi Mansion 2 in Japanese, or Luigi's Mansion 2: Dark Moon everywhere else) is a game for the Nintendo 3DS by Nintendo.
Originally revealed under the worldwide title of "Luigi's Mansion 2" at Nintendo's E3 2011 Press Conference, this game serves as the successor to the 2001 Nintendo GameCube launch title Luigi's Mansion. A sequel to this game, titled Luigi's Mansion 3, was released on October 2019 on the Nintendo Switch.
It is widely believed that the Nintendo 3DS was chosen for this sequel because the Nintendo GameCube was originally planned to be a 3D-enabled console, thus would've resulted in Luigi's Mansion being 3D. It is the third Mario game to only star Luigi. The first being Mario is Missing! and the second being Luigi's Mansion. An arcade version of the game was released in 2015.
Luigi's Mansion: Dark Moon is the first game that was released as part of "The Year of Luigi", honoring 30 years since Luigi's debut.
Story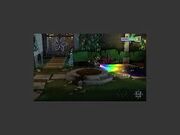 Professor E. Gadd has been researching ghosts in Evershade Valley, with some assistance from his friendly Greenies. When King Boo appears and shatters the Dark Moon, breaking it into six pieces and scattering them to each Mansion of the valley, the once friendly ghosts become aggressive.
Luigi, who is at home sleeping with his TV on, wakes up when E. Gadd suddenly appears on his TV screen. He informs Luigi about the situation and asks for his assistance. E. Gadd uses his Pixelator to teleport Luigi through the screen, much to Luigi's objection, into E. Gadd's Bunker in the Evershade Valley to search for the scattered pieces of the Dark Moon and solve this problem. Luigi must explore the Gloomy Manor not far from the Bunker, the Haunted Towers found in a forest, the Old Clockworks found within a nearby desert, the Secret Mine found in the snowy mountains, and finally the Treacherous Mansion, found above a ravine with the ocean around it.
After Luigi gets 4 Dark Moon pieces and rescues two Toads in Treacherous Mansion, the two Toads give E. Gadd a security image as the other Toads did when he rescued them. Once E. Gadd fixes it for a clearer view, it's revealed that Mario is once again kidnapped and trapped in a painting. It also revealed that it was King Boo who captured Mario. Because of this, Luigi heads to rescue him in the Train Exhibit in Treacherous Mansion. It turns out the image was forged to lead Luigi into a trap, and he is ambushed by Big Boo. Afterwards, Luigi and E. Gadd ponder where King Boo and the actual painting are. But then the Parascope picks up strange readings at Treacherous Mansion's terrace. Once Luigi reaches the terrace, King Boo appears and opens up the paranormal portal and releases all of the undead. He then escapes inside with Mario's painting. E. Gadd tells Luigi to capture them all before their very dimension collapses. Luigi succeeds at this and promptly enters the Paranormal Portal, where he reaches the final area of the game, King Boo's Illusion.
After Luigi obtains the last Dark Moon piece from the Tough Possessor within the illusion, E. Gadd attempts to pixelate him back to the Bunker, but King Boo interferes, sending him back to King Boo's Illusion. There, Luigi sees Mario's painting, but King Boo appears and reveals that he broke the Dark Moon in order to put all the ghosts under his control. King Boo also explains that he believes he is the rightful ruler of the Mushroom Kingdom, and wishes to conquer it with his new army. He plans to put Luigi and his friends in paintings as well, and proceeds to battle him.
He succeeds in capturing King Boo, claims the jewel from his crown, and returns to his dimension with Mario's painting. Luigi then meets up with E. Gadd at Treacherous Mansion's Terrace. Mario is freed by Luigi's Dark-Light, and the Toad assistants appear with the Dark Moon pieces. Luigi and the Toads then rebuild the Dark Moon and the ghosts in Evershade Valley returning back to friendly again. E. Gadd releases them from the Vault and they start playing with Mario and company. Even the Polterpup who is constantly attacking Luigi throughout the game has become amiable, and he walks up to Luigi and whimpers. Luigi says "Come here, doggy" resulting in the pup befriending Luigi. E. Gadd smiles as Mario gives him a pat on the back, proud of his brother for overcoming his fears. Then, a Greenie comes in and takes a photo of Luigi and his allies. Luigi returns back home and hangs the picture on his wall. He then goes to sleep on his couch, and his newly-adopted Polterpup comes and naps with him.
It is revealed afterwards, during the credits, that E. Gadd went back to his research on the Ghosts of the Evershade Valley with Luigi joining him for sometime before returning home with the Polterpup. It is shown that Luigi spends a large amount of time with the Ghosts now that the Dark Moon is back.
Gameplay
In this game, the Dark Moon has shattered and Luigi needs to find the Dark Moon pieces. There are 5 mansions in the main game (with a separate sixth mansion being exclusive to multiplayer mode), which house multiple missions in them and share a puzzle-oriented theme. This game also introduces the Poltergust 5000, an upgrade to the 3000 model.[5] Shining light via flashlight is no longer sufficient to stun the ghosts in the game; players now need to activate the Strobulb to stun ghosts. Luigi is also now able to jump while capturing a ghost to dodge incoming projectiles.[6] The Flash Light has another feature called the Dark-Light Device, which shines a rainbow colored light to find things such as the path of Boos or invisible objects.[7] Luigi is also given the Dual Scream, which is an original Nintendo DS. It acts the same way as the Game Boy Horror and displays a map on the 3DS's bottom screen. Cash and gems help with the mission score, as well as with upgrades to the Poltergust 5000. There is also an "extra life" system. The Gold Bones found in certain objects serve as extra lives; this will cause the Polterpup to take the bone and revive Luigi just by licking his face when Luigi loses all of his HP.[8] Luigi can still yell using the D-pad, as well as hum with the music if standing still for a while[9]. The various Toads that are trapped in paintings each have a different fear which requires more problem solving. There is a Boo in each mission that when captured works towards additional missions.
Characters
Ghosts
Common Ghosts
Greenie
Slammer
Hider
Sneaker
Creeper
Gobber
Strong Greenie
Strong Slammer
Strong Hider
Strong Sneaker
Strong Gobber
Gold Greenie
Bosses
Midbosses
Poltergeist (three fought) (Gloomy Manor)
The Three Sisters, Lucinda (weakest), Belinda (middle), Herlinda (strongest) (Haunted Towers)
Ancient Poltergeist (Old Clockworks)
A Strong Greenie, Strong Slammer, and a Strong Gobber, wrapped in paranormal chains (Secret Mine)
Strong Poltergeist (Treacherous Mansion)
Big Boo (Treacherous Mansion)
Mansions
There are five "mansions" to beat in this game. The mansions are vastly different from each other, and a couple may not even be considered mansions in the traditional sense. Each mansion has five levels and boss level (an exception is the Secret Mine which only has three levels before the boss level). The fifth mansion is immediately followed by the final boss fight.
A-1 "Poltergust 5000"
A-2 "Gear Up"
A-3 "Quiet Please"
A-4 "Visual Tricks"
A-5 "Sticky Situation"
A-Boss "Confront The Source"
B-1 "A Job for a Plumber"
B-2 "The Pinwheel Gate"
B-3 "Graveyard Shift"
B-4 "Pool Party"
B-5 "Doggone Key"
B-Boss "Tree Topping"
C-1 "A Timely Entrance"
C-2 "Underground Expedition"
C-3 "Roundhouse Brawl"
C-4 "Play Catch"
C-5 "Piece at Last"
C-Boss "Showtime"
D-1 "Cold Case"
D-2 "Hit Rock Bottom"
D-3 "Across the Chasm"
D-Boss "Chilly Ride"
E-1 "Front-Door Key"
E-2 "Double Trouble"
E-3 "A Train to Catch"
E-4 "Ambush Maneuver"
E-5 "Paranormal Chaos"
E-Boss "Stop the Knightmare"
Final Boss "A Nightmare to Remember"
Reception
The game was received pretty well receiving a 86 on Metacritic and 85.86% on GameRankings. Famitsu gave it a 35 (9, 9, 8, 9) out of 40.
Sales
In terms of sales, this game was also a success. On its first week of release in Japan, it sold 280,151 according to Media Create. In America, it sold about 360,000 in its launch month according to NPD making it to the 6th best-selling game for the month of March in 2013. As of March 31, 2014, it sold 3.98 million worldwide with 1,008,146 being sold in Japan. In France, the game has sold about 393,251 since its launch. Luigi's Mansion: Dark Moon is the 7th best-selling game for the Nintendo 3DS, having sold about 3.98 million copies worldwide.
NA Version
Luigi's Mansion™: Dark Moon is the brand new Luigi's Mansion title on the Nintendo 3DS™ system. This time there are multiple mansions each with unique puzzles and ghosts. Using a vacuum-like machine called the "Poltergust 5000," Luigi™ must explore and hunt ghosts in these mansions to complete specific missions for the great ghost researcher Professor E. Gadd. But shining the flashlight is no longer enough. Luigi must activate the new strobe function at just the right moment to stun the ghosts first, then catch them using the Poltergust 5000. Each mansion is filled with different gimmicks and puzzle elements, and exploring them can be a spooky challenge.
EU Version
Luigi is back on a mission to remove a bunch of stubborn ghosts from some super-spooky mansions in Luigi's Mansion 2 for Nintendo 3DS. Armed with his trusty "Poltergust" ghost-grabbing vacuum cleaner, Mario's brother takes centre stage to capture those pesky phantoms. Sure, Luigi's the nervous type who'd rather be as far from these ghosts as he can get, but a reluctant hero can still save the day! This hair-raising title is the first sequel to the 2002 Nintendo GameCube launch title, Luigi's Mansion, and brings back all the thrills of the original with bags of new fun features too. The stereoscopic 3D visuals bring the murky mansions, ghastly ghosts and spooky surroundings to life, so you can experience all the haunting chills and supernatural fun the game has to offer.
Pre-release and unused content
The game was originally going to be named Luigi's Mansion 2 in both European and American versions, but the latter had its name changed some time later. Early trailers featured minor differences in aesthetics, enemy placement and level design.
Glitches
Toad through the floor
In Old Clockworks' Mission C-5: Piece at Last, after saving Toad from his Painting, if the player heads to the Maintenance Hub, shoots the Toad across the chasm to the floor above (leading to the Service Elevator room) and makes their way to him, the Toad will fall through the metal floor. There is no explanation for this glitch.
Luigi's third arm
If Luigi calls with the +Control Pad at the same time he does something else, such as opening a door, he will put his arm down instead of using it normally. However, the animation will otherwise be unaffected. For example, when Luigi wipes his hands at the end of a level, he will only use one hand, as the other will be resting by his side. This glitch is easiest to see when Luigi gets a call from E. Gadd or picks up a gem. The glitch ends after the mission ends or Luigi is controllable again.
Promotion
The Play Nintendo website features a skill quiz on Luigi's Mansion: Dark Moon.
Trivia
On Miiverse, they set up a community for the game even though it's a game for 3DS. People there usually post a funny reaction of the thumbnail (which was Luigi screaming).
This is one of the rare Nintendo games that was not released on Friday in Europe. The game was released on Thursday, March 28, 2013, because Friday, March 29, 2013 was Good Friday. In some European countries, the game was released on March 27, 2013.
For a limited time, players in Europe could purchase the retail version of the game with a glow-in-the-dark cover, and a Boo stress ball as a pre-order bonus.[11]
The first letters of each mansion, possessor, and bonus mission, in the order of the story, make out the word "ghost". If ScareScraper is included, it will also spell "ghosts".

The trick is left intact in the German and Dutch translation. The first letters make out the words "geist" in German and "spook" in Dutch. In Dutch it only works with the first letters of the possessors and bonus missions, however. In the French translation, the first letter of each bonus mission in order read "Luigi".

Though they are all labeled as mansions, neither the Old Clockworks or Secret Mine are actual mansions.
Videos
See also
References
External links
Official sites
Videos
Music