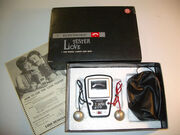 The Love Tester was a product released by Nintendo in 1969. It was advertised as being able to determine whether or not two people loved each other. In reality, it just measured the conductivity between the two. Gunpei Yokoi, who developed several products for Nintendo, created the Love Tester. The device includes a central unit with a meter that goes from 0 to 100.
At the bottom of this is an on/off switch, and in the center is the logo (Electronic Love Tester). Two cords with a metal ball at the end, one attached to the left and right sides of the gadget, are what "calculate" the love between two people. The man and woman hold each others hands and each person is required to hold one ball. Once both balls are held, the love meter will then give a number. The higher the number, the more love they supposedly have for one another.
Development
Gunpei Yokoi designed the Love Testers in the late sixties. When promoting the product, he jokingly stated that if the man kisses the woman while "testing their love," they'd get a better result. Of course this was not true. In a commercial that aired on television, a woman and man tested each others love and got a poor score. Following this, another man came along to try it out, and got a very high score. The commercial ended with the two falling in love and kissing.
Appearances in games
Community content is available under
CC-BY-SA
unless otherwise noted.