Fire Emblem class
Lord
Weapons

Swords, axes (FE7), Lances (FE8)

Characers
Marth, Leif, Seliph, Roy, Eliwood, Hector, Lyndis, Erika, Ephraim, Reese, Ike, Chrom, Lucina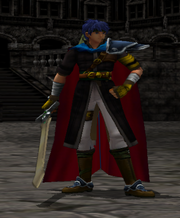 A Lord is a character class in the Fire Emblem series. It is usually used by main characters in the game. Lords mostly use swords, but some can use other weapons such as lances.