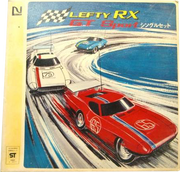 The Lefty RX was a toy Nintendo released in 1972. It was an RC car that featured 3 different variants (each with three colors and each sold separately) for ¥4,980, ¥5,800, and ¥6,800 (depending on the model) each, a bargain for a type of a toy that was usually very expensive at the time. Gunpei Yokoi was given to task to make the product as cheap as possible, and succeeded by using only one frequency, which consequently only allowed the vehicle to turn left (hence the peculiar name). While it may seem to be an odd decision, users could still organize races by creating a track that was devoid of any right turns, or simply turn right by performing a u-turn.
Contents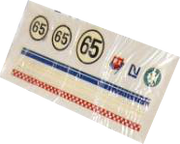 The following are the contents of each Lefty RX package.
Vehicle: Cheaper packages featured one car, slightly more expensive packages featured two and the most expensive featured three.
Fuel Pit: The fuel pit charged each car's battery.
Remote Control: Each car had its own remote control that was the same color as the car.
Stickers: Stickers came with each set and could be used as decorative items. Stickers included images of a helmet, numbers, the Nintendo Games logo, a flag with the words Mach Rider under it, and more. The available stickers differed with each pack.
Appearances in Video Games
Lefty RX appears in a microgame in WarioWare Gold, where the player must navigate it to the goal by holding the A button to make the car go forward, and releasing to have it turn left.
Gallery
Community content is available under
CC-BY-SA
unless otherwise noted.