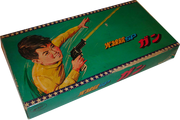 The Kôsenjû SP Series was a series of guns and targets that Nintendo released in 1970. Their success led to the creation of a successor called the Kôsenjû Custom Series. A standard light gun and light rifle were released, each sold separately, that were used to shoot a variety of targets, also sold separately. Sets were often released that contained more than one item (such as a gun and a Kôsenjû SP bottle set). Six different targets were manufactured by Nintendo, each one providing a different, repetitive challenge. Correctly shooting the target would result in several different things happening depending on the item. The upper half of the bottle, for example, would pop off if the user accurately shot the circle in the center while the lion will make noises and have its mouth and eyes light up.
Gallery
Community content is available under
CC-BY-SA
unless otherwise noted.