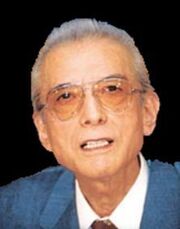 Hiroshi Yamauchi was the third president of Nintendo Co. Ltd., and was succeeded by current president Satoru Iwata. He served as president for over 50 years and is the last of the Yamauchi family to be president of Nintendo Co. Ltd.. His great-grandfather was Fusajiro Yamauchi.
When Yamauchi first became president of Nintendo, the company was a major producer of Hanafuda cards in Japan. Under Yamauchi, Nintendo went into toys and the coin-op business before entering the home consoles market and revitalizing the video game industry in the US.
Yamauchi was known for being a ruthless and intimidating leader. Yamauchi was also known in the years of NES and SNES for being able to predict the twists and turns of the video game market, even though he himself only played a video game once in his life and hated it.
Hiroshi Yamauchi stepped down from his position as Nintendo President in May 2002, when he became a Director. He then left the company entirely after a shareholder's meeting on June 29th, 2005, though still chose to keep stock in Nintendo (he was the leading stock holder), leading him to become one of the richest men in Japan due to the success of the Wii and Nintendo DS. He died on September 19, 2013 following complications of pneumonia.
Gallery
Community content is available under
CC-BY-SA
unless otherwise noted.