This article is an orphan, as no other articles link to it. Please introduce links to this page from related articles.

As of: January 2014
Gremlin Prescot is a supporting character in Disney Epic Mickey. Unlike in Epic Mickey, Prescott is the secondary antagonist in Epic Mickey: The Power of Two.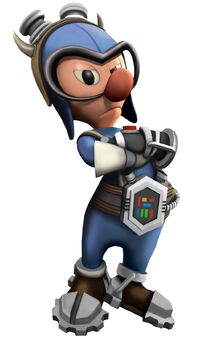 Appearances
Epic Mickey
Before Mickey arrived in Wasteland, Prescott had an argument with the Telephone over a Gremlin Wrench. This made him get locked in a safe.
Freeing Prescott
Paint Path
After Mickey has painted Moody's house, he can go to the Gag Factory and go to the safe. Mickey frees Prescott, but falls unconsciously.
Thinner Path
If Mickey thins the support toon beam, it will fall into Moody, but not kill him as he's a toon. This frees Prescott.
Prescott vs. the Telephone
Paint Path
Before Prescott can have his wrench, Mickey must paint in all the phone boxes and/or decline his question to get the wrench. When they're all painted, the Telephone will give Mickey the wrench. He'll repair the bridge leading to Mickeyjunk Mountain.
Thinner Path
After Mickey has talked to the Telephone and left a copy of his house, Prescott will ask Mickey that if he can get the wrench. If Mickey accepts his question, he'll dismantle the Telephone, leaving a gear and getting his wrench. The quest OsTown Phone Network will be failed.
After defeating the Bloticles in OsTown
After Mickey has destroyed all the Bloticles in OsTown, Prescott will thank Mickey for doing that. After defeating the Shadow Blot, it's likely that Prescott will celebrate with the other Wasteland citizens.
Epic Mickey: The Power of Two
Prescott reappears as the secondary antagonist in the game.
Trivia
Some people think Prescott is the main antagonist in Epic Mickey 2. However, he is the secondary antagonist of the game while the Mad Doctor's Ride is the main antagonist of the game.
Community content is available under
CC-BY-SA
unless otherwise noted.